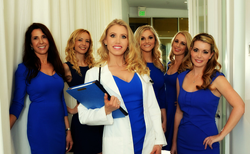 Taking a holistic approach to anti-aging and beauty brings long-term benefits to our clients at PowerMD.
Marin County, CA (PRWEB) July 07, 2015
Dr. Karron Power is performing a new injectable treatment that can "melt away" small amounts of fat that create a "double chin". The "Double Chin Eraser" is now available to San Francisco Bay Area residents at PowerMD in Marin County. The Double Chin Eraser uses a compounded formula which has an effect similar to that of Kybella, the new injectable recently approved by the FDA.
"Kybella is identical to the deoxycholic acid that is produced in the body," says Dr. Power. "Deoxycholic acid helps the body to absorb fats. Kybella is a 'cytolytic' drug, which when injected into tissue physically destroys the cell membrane. When properly injected into unwanted fat, the drug destroys the fat cells."
"A double chin can make a woman or man look older and less attractive," says Dr. Power. "However, many people don't need or want surgery to reduce areas of fat under the chin. The Double Chin Eraser injectable treatment is effective for addressing small amounts of unwanted fat, and some patients may also benefit from a specialized laser treatment which can help to tighten the skin."
Dr. Karron L. Power MD, MPH is the founder, owner and medical director of PowerMD in Marin County, CA,, the culmination of over 20 years of medical education, research and practice in medical aesthetics, anti-aging, regenerative, and restorative medicine.
Dr. Power is a leading specialist in preventative, regenerative, anti-aging and aesthetic medicine. Her education includes a Bachelor's degree in Biology cum laude from Whittier College; a Masters' degree in environmental public health and policy from UC Berkley, and a Medical degree from University of California, San Francisco (UCSF) Medical School where she continued as a Research Fellow in Dermatology. Dr. Power completed her Internship, Residency and Chief Resident programs in Internal Medicine and Preventative, Occupational and Environmental Medicine at UCSF and became Board Certified under the American Board of Preventive Medicine. She then furthered her study to become Board Certified in Anti-Aging and Regenerative Medicine.