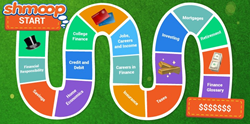 Young adults don't know enough about money. Period.
Mountain View, California (PRWEB) July 07, 2015
People think that having a million bucks when they retire is serious bank—that they'd retire with jets and homes and bling. Well, that math works if they're 97 and just going to live one more year; but if they're 65 and live another 33 years, then...what time does the Blue Plate Special start again?
What about that drunk driving arrest? How much does it really cost a person? It's not just the fines and court fees; how about the myriad employers who will now just quickly overlook them? Is that a "cost"?
Or how about someone who's not invested in the stock market and keeps all of their dough in their sock drawer? The market goes up about 8-10% a year over long periods of time, doubling about every 8 years; so, by not being invested, they've just guaranteed themselves a lifetime of financial mediocrity.
Welcome to the world of Shmoop Finance. Shmoop calls 'em as they sees 'em. Why? Because way too many people are doing all the wrong things, simply because they don't see the whole story. Ignorance is not bliss. It is just expensive.
Shmoop (http://www.shmoop.com), a digital publisher known for its award-winning Test Prep and certified Online Courses, has released free guides to financial literacy for folks of all ages, from diapers to dentures. (Well, maybe not diapers; infants should probably ask their parents to hold their cash for a few more years.)
For the early bloomers, Shmoop covers financial responsibility, savings, and credit and debit cards. For those heading out on their own for the first time, there are sections on college finance and job income. And for anyone who's becoming an adult (in age if not maturity), Shmoop has all the deets on the inner workings of insurance, taxes, mortgages, and the increasingly elusive possibility of retirement.
"Young adults don't know enough about money. Period," says David Siminoff, founder of Shmoop. "If we don't give them a reason to care, they'll continue to avoid the topic, which means a financially irresponsible generation. Greece is the word." He continues, "The best way to get students to learn is through storytelling, and that's what we provide with Shmoop Finance."
Shmoop's tell-it-like-it-is attitude will teach students the importance of delayed gratification, long-term greed, and not putting all their cash under a moldy mattress. And after they follow Shmoop's advice and start swimming in literal poolfuls of cash (or the more tax efficient shares of stock), Shmoop's section on investing will give them tips and tricks from decades of experience on Wall Street.
Shmoop also offers Online Courses in finance, and discounts are available for schools and districts. Contact sales(at)shmoop(dot)com for details.
About Shmoop
Shmoop is a digital curriculum and test prep company that makes fun, rigorous learning and teaching resources. Shmoop content is written by experts and teachers, who collaborate to create high-quality and engaging materials for teachers and students. Shmoop Courses, Test Prep, Teaching Guides, and Learning Guides balance a teen-friendly, approachable style with academically rigorous concepts. Shmoop sees 10 million unique visitors a month on its site and offers more than 7,000 titles across the Web, iPhone, Android devices, iPad, Kindle, Nook, and Sony Reader. The company has been honored twice by the Webby Awards, named "Best in Tech" twice by Scholastic Administrator, and awarded Annual Education Software Review Awards (EDDIES) three years in a row. Launched in 2008, Shmoop is headquartered in a labradoodle-patrolled office in Mountain View, California.