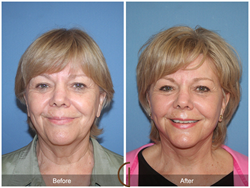 "One technique that has shown long-lasting results with a low complication rate is the Double 'C' Plication. Basically, the technique tightens up the face the way you would lace a shoe
Newport Beach, CA (PRWEB) July 23, 2015
As people age, their bodies are affected by changes they have little to no control over. Genetic and biological factors cause skin to droop and sag, wrinkles to appear and fat to be stored in places that were once fat-free. Procedures like facial rejuvenation are growing in popularity, leading to the development of new techniques for such procedures. Top California facial plastic surgeon Dr. Kevin Sadati, a highly renowned board certified surgeon at the Gallery of Cosmetic Surgery, has unparalleled success with his Double "C" Plication Facelift technique and has recently discussed this reliable procedure.
"Many techniques exist for facial rejuvenation and they all share one goal: re-suspension of the SMAS, or superficial musculoaponeurotic system," Dr. Sadati explained. "One technique that has shown long-lasting results with a low complication rate is the Double 'C' Plication. Basically, the technique tightens up the face the way you would lace a shoe, using double running plication sutures in a 'C' pattern through short-scar or traditional face-lift incisions."
According to Dr. Sadati, a four-year review of more than 1500 procedures using the double "C" lift technique has provided patients with natural results and low complications. Published results showed that the use of this facelift technique avoided nerve injuries and preserved the temple hairline and earlobe clefts. The technique allowed for more uniform suspension compared to purse string sutures and single plication thanks to the "C" pattern. This causes the entire lower area of the face to be firm and youthful.
Dr. Kevin Sadati's four-year study, featuring his double "C" lift technique for superior facelift results, was published by the American Journal of Cosmetic Surgery. Since, Dr. Sadati has been asked to speak at multiple large cosmetic surgery conferences and conventions worldwide. Now with over 2500 lower face and neck lifts performed results have stayed consistent.
"Techniques like this one are incredibly important because we are always looking for the most efficient and least complicated way to perform facial cosmetic surgery, but long-term results also depend on the experience of the plastic surgeon," Dr. Sadati added. "Analyzing an individual's facial structure is a critical step in the process because aging affects everyone differently. In order to have a successful, long-term facial rejuvenation procedure, the patient's unique situation and features must be taken into account."
For more than a decade, Dr. Sadati has performed thousands of facial plastic and reconstructive surgeries at the Gallery of Cosmetic Surgery. He has been involved in the creation and certification of a number of new techniques for cosmetic surgery, many of which were later adopted by other surgeons and presented at multiple large cosmetic surgery conferences.
Dr. Kevin Sadati is board certified by the American Osteopathic Board of Otolarynology Head and Neck Surgery (AOBOO-HNS) and one of the top facial plastic and ENT (ear, nose and throat) surgeons in California. He specializes in minimally invasive facial and nasal surgery and has over a decade of experience in his field. Along with being a member of the prestigious American Academy of Facial Plastic & Reconstructive Surgery (AAFRS), Dr. Sadati is also a Diplomate of the American Board of Cosmetic Surgery (ABCS). Through his extensive experience and skill he has become one of the most sought after Newport Beach and Orange County plastic surgeons for facelifts, rhinoplasty, liposuction and sinus surgery.
For more information on Dr. Sadati, visit the Gallery of Cosmetic Surgery's company website.