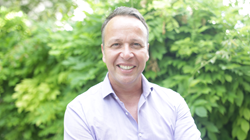 With his background in the consumer gaming industry, Florian is the perfect addition to our team to help us bring the zSpace experience into additional markets.
SUNNYVALE, Calif (PRWEB) July 07, 2015
zSpace today announced that Florian Hunziker, an experienced gaming and private equity executive, has joined the company as executive vice president in charge of new markets and content.
zSpace is a desktop virtual reality technology that allows users to create and manipulate objects in an interactive, 3D world. The technology is currently used by tens of thousands of students every day in more than 90 school districts across the country, and over 100 universities. Unlike other VR HMD technologies, which tend to isolate the user, zSpace brings virtual reality into the "real world," encouraging communication and collaboration.
"Although it seems inconceivable now, flat-screen computing will fade into the past," said Paul Kellenberger, chief executive officer at zSpace. "We've already introduced virtual reality to schools, colleges and universities where it is rapidly growing. With his background in the consumer gaming industry, Florian is the perfect addition to our team to help us bring the zSpace experience into additional markets."
Each zSpace unit consists of a PC and virtual reality display, outfitted with a precision interactive stylus as well as a wide variety of software. Virtual-holographic images can be "lifted" from the screen and manipulated with the stylus, and the system optimizes the virtual reality experience with a unique combination of high definition stereopsis and integrated head tracking.
Hunziker: Experienced Gaming, Business Development and Venture Capital Executive
Hunziker has more than 15 years of operations, new business development and venture capital experience. Most recently, Hunziker was COO at Harmonix Music Systems, a highly regarded game development studio best known for its creation of Guitar Hero, Dance Central and Rock Band. Hunziker also held senior business development positions at MTV-Viacom and Electronic Arts (EA) where he was able to substantially grow revenue and profitability for both organizations through strategic partnerships and operational improvements.
Before his career in the entertainment and gaming industry, Hunziker spent five years in private equity, where he focused on early-stage investing for technology companies, as well as equity buyouts, recapitalizations and expansions.
A West Coast native, Hunziker received his BS in business administration from the University of California at Berkeley in 1997 and his MBA from the Stanford Graduate School of Business in 1999.
About zSpace
zSpace is a leading-edge technology provider that delivers a new way of learning with its flagship product, zSpace®. Focused on STEM education, medical instruction, and corporate training, zSpace inspires and accelerates understanding through real world virtual reality. zSpace was named "Cool Vendor" by Gartner, Inc. and awarded "Best New Product" by Tech and Learning Magazine. zSpace is a privately held, venture backed company located in Sunnyvale, California, and has filed more than 30 patents for its innovative technologies. For more information, visit http://www.zspace.com, or follow on Twitter @zSpace.