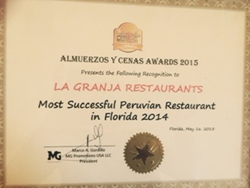 Miami, Florida (PRWEB) July 07, 2015
On May 16, 2015, at the 2nd annual Almuerzos Y Cenas Awards 2015, La Granja Restaurants was the recipient of three awards for its achievements in restaurant hospitality throughout the state of Florida.
La Granja Restaurants is no stranger to praise; having recently received accolades at Miami's famed Taste of Peru awards just last year, as well as Claudia Bartra, La Granja's CFO and General Manager, being selected as one of 12 honorees as Hispanic Women of Distinction for 14th annual charity awards luncheon coming this August at Signature Grand in Davie, Florida. Once again, this successful, family style Peruvian restaurant chain has been recognized for over two decades of hard work of its founders and its successful business model, as well as the extraordinary preparation and provision of Florida's beloved, authentic Peruvian cuisine.
The Almuerzos Y Cenas Awards were held at the Double Tree Hilton Hotel in Miami, during the Gala Dinner Show. There, La Granja's Racso Bartra and Gustavo Bartra Jr. were both awarded with the Restaurateur of the Year 2014 award. La Granja Restaurants was also honored with an award for Most Successful Peruvian Restaurant 2014, and Chef Ivan Tucker of La Granja was presented with an award for Lunch and Dinner Special Recognition 2014. La Granja Restaurants was acknowledged at the awards ceremony for serving Floridians with the highest quality of Peruvian food.
Peruvian Food: From modest beginnings, La Granja has achieved great success while building close ties to the South Florida community, and generously giving back.
In 1993, members of the Bartra family founded La Granja in Aruba. Never would they imagine the overwhelming success La Granja would attain, or the impact it would have on the community. This once modest eatery, serving top quality, authentic Peruvian food, has blossomed into a robust restaurant empire with more than 40 locations in Florida today. The Bartra family credits La Granja's great success to their hard work, as well as being afforded the chance to prosper in the United States of America, which they truly believe is the land of opportunity.
With fresh, family style, whole food recipes prepared daily, along with a healthy and flavorful menu of Peruvian food favorites, like Pollo A La Brasa, La Granja has consistently delivered exactly what South Floridians were looking for. A far cry from traditional fast food, La Granja offers families a place to visit and enjoy a home cooked Peruvian meal that is also affordable. South Florida families in every community have welcomed this simple, yet effective concept warmly. What La Granja has brought to the table is a true recipe for success - a love of Peruvian food, and a commitment to Peruvian culture and community.
La Granja is also known for its generous support to the South Florida community, partnering with grass roots youth organizations like ASPIRA, honoring veterans, and offering scholarships to Florida residents of Hispanic and Latino descent to Palm Beach Community College.
For more information about La Granja Restaurants, or to find a La Granja restaurant nearest you, visit: http://www.lagranjarestaurants.com/locations.php.