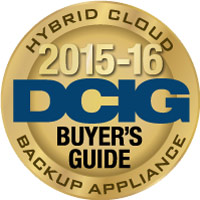 "DCIG sees a bright future for hybrid cloud backup appliances," said Tim Anderson, managing analyst and co-author of the 2015-16 Hybrid Cloud Backup Appliance Buyer's Guide.
Austin, Texas (PRWEB) July 07, 2015
The emergence of the cloud to alleviate cost, space and administrative burdens for maintaining full backup systems on-premises has led to the rise of backup appliances to provide the best of both worlds for data protection and disaster recovery. Hybrid cloud backup appliances serve as an on premise backup appliance and help maintain constant connection to a private or public cloud provider. As storage is a primary component to having a backup architecture, and cloud-enabled data centers managed by third-parties are becoming more common, users can point their backups to a cloud without having to install and manage additional racks of disk arrays, networking equipment and other SAN-related components.
The inaugural DCIG 2015-16 Hybrid Cloud Backup Appliance Buyer's Guide emerged from the success of the Integrated Backup Appliance Buyer's Guide when it became clear during that research that connectivity to cloud storage providers was of increasing importance. Hybrid cloud backup appliances provide a combination of onsite and offsite storage capabilities so companies can have their data onsite as well as offsite with a cloud provider. The offsite storage is used for data recovery purposes and even for disaster recoveries. These options make hybrid cloud backup appliances an attractive alternative for many organizations as opposed to setting up a dedicated secondary site to store their data or perform disaster recoveries.
"Advances by hybrid cloud backup providers with robust integration with cloud providers, help organizations do more than simply backup data to the cloud. They can now even recover and, or, fail over and run their operations in the cloud, in some instances for prolonged periods of time," said Charley McMaster, research analyst and co-author of the DCIG 2015-16 Hybrid Cloud Backup Appliance Buyer's Guide. "It has and always will be important to provide users with a way to quickly identify solutions that they will want to bring in-house and provide further evaluation. This Guide does just that by giving purchasers with an easy to use yet detailed view of hybrid cloud backup appliances."
For the DCIG 2015-16 Hybrid Cloud Backup Appliance Buyer's Guide, DCIG, LLC evaluated nearly 60 offerings from ten companies. After an initial survey containing more than 100 questions was completed, product capabilities were assessed based on data provided by the vendor, prior DCIG research, and information available in the public domain. Products were then evaluated and ranked Best-in-Class, Recommended, Excellent, Good, or Basic across functionality and capability relative to the other products included in the Buyer's Guide.
The intent for this Buyer's Guide, as with all DCIG Buyer's Guides, is to provide an "at-a-glance" comparison from which organizations can select the most appropriate solution for their backup needs.
The DCIG 2015-16 Hybrid Cloud Backup Appliance Buyer's Guide Top solutions include (in alphabetical order): Cobalt Iron Vault – Enterprise, Cobalt Iron Vault – Large, Cobalt Iron Vault – Medium; Cobalt Iron Vault – Small; STORServer BA 601-CV, STORServer BA 701-TSM, STORServer BA 801-CV, STORServer BA 802-TSM, STORServer EBA 1202-CV, STORServer EBA 1202-TSM, STORServer EBA 2502-CV, STORServer EBA 2502-TSM, STORServer EBA 3502-TSM, Symantec NetBackup 5230, Unitrends Recovery 713S, Unitrends Recovery 714S, Unitrends Recovery 814S, Unitrends Recovery 823S, Unitrends Recovery 824S, Unitrends Recovery 933S, Unitrends Recovery 936S, Unitrends Recovery 943S
The Unitrends Recovery 943S appliance achieved the highest ranking in this Buyer's Guide by scoring particularly well in both the virtualization and management categories. The Unitrends Recovery 943S stood out in several ways from competitive solutions listed in the Buyer's Guide. They include:

Heightened levels of virtual server data protection capabilities as well as integration with multiple cloud storage providers into the appliance.
Appliances scale to offer high levels of cache, processing power and storage capacity
May cluster multiple appliances together to create a highly available configuration
Offer solid state drives (SSDs) as a storage option
Provide robust encryption options for data at-rest and in-flight
Support for dozens of operating systems
Support multiple storage networking protocols
The DCIG 2015-16 Hybrid Cloud Backup Appliance Buyer's Guide achieves the following objectives:
Provides an objective, third party evaluation of hybrid cloud backup appliances that evaluates their features from an end user's perspective
Ranks features of each hybrid cloud backup appliance on criteria that matter most to end users
Provides a standardized data sheet for each of the hybrid cloud backup appliances so organizations may do quick side-by-side comparisons of products
Gives any organization a solid foundation for getting competitive bids from different providers that are based on "apples-to-apples" comparisons
"DCIG sees a bright future for hybrid cloud backup appliances. Many small to midsize enterprises (SMEs) are already reaping the benefits of mitigating, and in some situations, negating the need to lease or purchase a second site to back up and recover data," added Tim Anderson, managing analyst and co-author of the 2015-16 Hybrid Cloud Backup Appliance Buyer's Guide. As these enterprises rely upon a cloud provider or many providers to offer viable disaster recovery plans for their organization, we know this Guide will be as valuable in helping users determine which is the right solution to bring in-house for further testing and evaluation."
Disclosure and Methodology
DCIG identified nine companies that provide hybrid cloud backup appliances. Each hybrid cloud backup appliance had to meet the following criteria:
Must be available as a physical appliance
May ship as a virtual appliance
Stores backup data on the appliance via on premise DAS, NAS or SAN-attached storage
Enables connectivity with at least one cloud-based storage provider for remote backups and long-term retention of local backups in a secure/encrypted fashion
Offers multiple layers of storage efficiency deduplication/compression) and high availability (multiple nodes)
Provides the ability to connect the cloud-based backup images on more than one geographically dispersed appliance
Includes backup and recovery software that enables seamless integration into an existing infrastructure
includes support for both physical and virtual client based backup and recovery
Includes support for standard application level backups (Exchange, Oracle, MSSQL, SharePoint, etc...)
Sufficient information provided to reach meaningful conclusions
Must be generally available by May 31, 2015
It is important to note that no vendors, whether clients or not, for this Guide or previous Guides, were afforded preferential treatment. All research was based upon information provided directly by vendors, research and analysis by DCIG and other publicly available information and all results solely reflect the opinion of DCIG.
As with all Guides, they are not intended to be a substitute for internal testing nor was any product testing completed. DCIG encourages any organization that is considering the purchase of any solution included in a Buyer's Guide to do its own in-house testing.
As a supplement to this Guide, all of the data collected for this Guide and all DCIG Buyer's Guides to date are available through the DCIG Analysis Portal, an online data visualization portal. The portal provides more detail on what features are available and may be accessed via this link.
Availability
The DCIG 2015-16 Hybrid Cloud Backup Appliance Buyer's Guide is available immediately to subscribing DCIG Analysis Portal users at the following link http://portal.dcig.com/. Users new to the DCIG Analysis Portal may register at this link to access this Guide.
Resources:
DCIG Website: http://www.dcig.com
DCIG Blog: http://www.dcig.com/blog
About DCIG
DCIG is a group of analysts with IT industry expertise who provide informed, insightful, third party analysis and commentary on IT hardware, software and services.
DCIG independently develops and licenses access to DCIG Buyer's Guides. DCIG Buyer's Guides provide actionable intelligence through comprehensive, in-depth analysis of data center infrastructure product features. DCIG also develops sponsored content in the form of blog entries, customer validations, product reviews, special reports and executive, standard and full-length white papers.
DCIG's target audiences include C-level executives, IT managers, systems and storage engineers and architects, press/media, magazine and website editors, bloggers, financial and technical analysts, and cloud service providers.