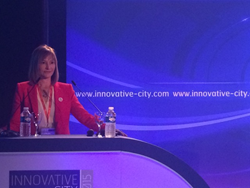 "The developer has made significant investments in developing this luxury complex. It is all private dollars showing this is how we can do something differently; this is the future for Utah." - Dr. Laura Nelson
PARK CITY, UTAH (PRWEB) July 07, 2015
The State of Utah's Executive Director of the Office of Energy Development, Dr. Laura Nelson, was so impressed by Echo Spur and the possibilities it presents for the future of sustainable living after a recent property tour that she highlighted the development during her speaking engagement at the Innovative City 2015 conference held last month in Nice, France.
Dr. Nelson commended Echo Spur, a luxury home development in Park City, Utah, for leading the private sector in sustainable building. While the State has invested heavily in encouraging sustainable development, she explained that much of the initiative for innovative development will come from the private sector.
During her presentation to an international audience, Dr. Nelson remarked, "The developer has made significant investments in developing this luxury complex. It is all private dollars showing this is how we can do something differently; this is the future for Utah." She continued, "We appreciate their willingness to work with us in partnership, so we can identify the best available technologies that we can produce and deploy throughout the building cycle whether it's affordable housing or luxury housing, or buildings or other institutions."
Echo Spur generated considerable interest from Utah elected officials attending the conference as well as international guests interested in sustainable living from various global regions.
"We are honored to be recognized by the State of Utah as a viable example of what is possible right now for residential developments," comments Echo Spur developer and Park City resident Sean Kelleher. "It is our goal to demonstrate that sustainable building makes economic sense for homeowners, and it was a significant opportunity to be presented at this prestigious, international forum and demonstrate that these strategies serve the goals of local and state government environmental policies as well."
Located on a sunny hillside in the resort town's highly coveted historic district, the first two of Echo Spur's "mountain modern" homes are scheduled for completion in August. The builder, Go West Development, is incorporating the latest solar, superinsulation and water management strategies to reduce the cost of homeownership while providing a superior living experience and environment.
"Sustainability is simply good economics these days," Kelleher explains. "Costs for solar have declined decisively, giving homeowners a simple decision: pay the ever-increasing cost of utilities, or pay the bank on the mortgage to finance the sustainable strategies we've implemented at Echo Spur. On an after-tax basis, the homeowner will have more money in their pocket with the latter."
Kelleher adds, "The power of these economic realities is that these strategies work just as well for homes priced closer to the median price. Additionally, the economic viability of these strategies negates the debate surrounding carbon emissions. Regardless of our political leanings or views on Global Warming, the homeowner is financially better off, and that's what ultimately drives most household investment decisions. Frankly, the impediment for many homeowners is that utilities costs are not included in the federally-defined mortgage affordability calculations."
Echo Spur offers expansive views of Old Town, Park City Mountain Resort and Deer Valley Resort. Homes will range in size from 2,700 to 3,500 square feet with versatile layout options that include three to four bedrooms, state-of-the art gourmet kitchens and outdoor entertaining areas with hot tubs and gas fireplaces. The beautifully designed "Green" rooftops can be used as gardens or patios while providing superior insulation for the home, keeping energy costs down. All of the homes systems can be managed through the latest iPad-based technology; for example, the technology will know when weather is forecast to change, and will adjust the radiant heating accordingly.
Echo Spur homes are offered by Berkshire Hathaway HomeServices Utah Properties and range from $2.7 to $3.5 million.
About Echo Spur
Located in the highly coveted Old Town neighborhood of Park City, Echo Spur is one of the last multi-lot developments in the historic district. Seven contemporary, sustainable homes will utilize the latest solar, superinsulation and water management strategies to reduce the cost of homeownership and provide a superior living experience. Old Town's first sustainable development, Echo Spur is within easy walking distance to Main Street's cultural offerings and hundreds of miles of trails. It is within one mile of world-class ski areas Deer Valley Resort and the country's largest combined ski area between Park City Mountain Resort and Canyons Resort, collectively owned and operated by Vail Resorts. Park City is a convenient 35 minute drive from Salt Lake City International Airport. Two percent of home lot sales will be donated to the Park City Community Foundation and Kimball Art Center. For more info, visit http://www.echospur.com.
# # #