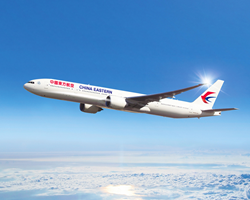 China Eastern Airlines' new daily flight services will connect up to 186,000 travellers between Toronto and Shanghai in 2015"
(PRWEB) July 10, 2015
China Eastern Airlines today announces their new daily flight services to Toronto Pearson International Airport (YYZ) and Shanghai Pudong International Airport (PVG). China Eastern's new offer, beginning July 10th, will provide a wide range of travel options for passengers as well as greater opportunity for trade and economic development in Ontario and Shanghai.
"The new service benefits everyone," said Craig Bradbrook, Vice President, Greater Toronto Airports Authority. "Our continued investment in YYZ's infrastructure will no doubt ensure that passengers on either side of the Pacific can stay connected."
Since launching direct flights between Toronto and Shanghai, China Eastern has flown 310 flights between the two cities transporting more than 83,000 passengers. The airline's decision to expand services to include daily flights will only further boost both the economy and tourism for Ontario and Shanghai.
"China Eastern Airlines' new daily flight services will connect up to 186,000 travelers between these destinations in 2015 alone," said Margaret Meng, General Manager, China Eastern Airlines Canada. "We respect and value the Canadian market thus we have extended our range of services and made our airline more appealing by implementing improved in-air services and an easy transit baggage policy."
Based in Shanghai, China Eastern Airlines is one of the three largest airlines in China ranking among the world's top 5 in passenger transportation volume. The airline carries approximately 80 million passengers on 430 long-haul and short-haul aircrafts with a worldwide fleet average age of less than seven years. China Eastern Airlines was also named the World's Most Improved Airline of the year 2012 by Skytrax.
"The government of Canada welcomes China Eastern Airlines' additional daily passenger service to Toronto. The new service will boost tourism, provide more options for Canadian travelers and will have a significant impact on our economy," said the Honorable Victor OH, Member of Parliament. "Canada is committed to growing cultural ties and strong personal relationships that deepen our trade and economic relations with China."
Travelers looking to explore other Asian countries can also benefit from the airline's close partnership with Shanghai's tourism industry, as the city offers a 72-hour visa exemption program targeted at visitors with foreign passports. The service will also make it easier for Canadian businesses and organizations such as schools and universities to reach new customers, suppliers, and investors in China.
The daily flights on a Boeing 777-300ER aircraft with comfort optimized configuration will offer a maximum capacity of 258 Economy Class, 52 Business Class, and 6 First class seats. Flights operate daily as follows:

MU207 arrives at YYZ at 2:25p.m.; MU208 departs at 4:20 p.m.
About China Eastern Airlines
Established in 1988, China Eastern Airlines is an official member of SkyTeam and the second-largest Chinese airline in the world by passenger volume. From its headquarters in Shanghai, the airline operates more than 430 aircraft to 1000 cities in 187 countries via close cooperation with SkyTeam member airlines carrying approximately 80 million passengers annually.