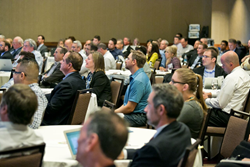 Discerning consumers are demanding high quality care at the lowest possible cost.
(PRWEB) July 09, 2015
Coming off the success of the inaugural Patient Engagement Summit last February, HIMSS announced today that it is launching the West Coast edition in San Diego on October 12-13 at the Manchester Grand Hyatt. Patient engagement is one of the industry's hottest topics and, as such, providers from all over the country will gather in San Diego to gain valuable insight into how progressive healthcare organizations from around the United States have cracked the patient engagement code.
"With the ongoing shift in the healthcare marketplace, patient engagement has become a mission critical initiative for healthcare organizations," said John Whelan, executive vice president of HIMMS Media. "Discerning consumers are demanding high quality care at the lowest possible cost. During the Patient Engagement Summit, leading industry experts will provide attendees the information they need to make patient engagement an integral part of their strategy to improve care and reduce healthcare costs. "
Industry experts will provide cases studies, peer-to-peer learning, and expert insights into how leading healthcare organizations are using patient engagement strategies for better care and reduced costs through the innovative use of policy, procedure, and technology. Topics to be addressed at the forum include: engaging patients before, during, and after care, patient activation, the physician-patient relationship, disrupting traditional engagement , engaging older adults in health IT, patient engagement and care coordination technologies, and leveraging technology to improve quality and drive ROI. The agenda is currently under development, speakers and sessions will be announced in the coming weeks.
For more information including registration and sponsorship opportunities, please visit patientengagementsummit.com.
If you cover the healthcare industry, the forum will give you access to the leading experts in the field. Press & media passes are available to qualified individuals but space is limited. Contact Peggy Diab to receive your pass and to set up interviews with speakers or HIMSS Media representatives.
About HIMSS
HIMSS is a global, cause-based, not-for-profit organization focused on better health through information technology (IT). HIMSS leads efforts to optimize health engagements and care outcomes using information technology. HIMSS is a cause-based, global enterprise producing health IT thought leadership, education, events, market research and media services around the world. Founded in 1961, HIMSS encompasses more than 52,000 individuals, of which more than two-thirds work in healthcare provider, governmental and not-for-profit organizations across the globe, plus over 600 corporations and 250 not-for-profit partner organizations, that share this cause. HIMSS, headquartered in Chicago, serves the global health IT community with additional offices in the United States, Europe, and Asia.