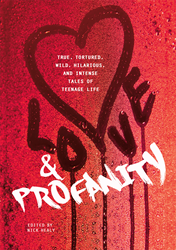 The winners of the Tell Your True Story contest address friendship, suicide, depression, book-obsession and breakups in their essays
Mineapolis, Minn. (PRWEB) July 09, 2015
Switch Press is thrilled to announce the winner and five finalists of the "Tell Your True Story" teenage writing contest conducted on Wattpad, the world's largest community of readers and writers. The contest ran for two months in connection with the launch of Love & Profanity: True, Tortured, Wild, Hilarious and Intense Tales of Teenage Life, a collection of micro-memoirs from more than 40 authors.
"The winners of the 'Tell Your True Story' contest address friendship, suicide, depression, jealousy, book-obsession and breakups in their essays. Switch Press was created to reach teen readers with stories that matter to them, and we are excited to include these true narratives from teenage writers in the upcoming enhanced eBook edition of Love and Profanity, which will be released August 1," said Beth Brezenoff, Trade Editorial Director of Capstone.
The winning story is "Whiskey Tango Foxtrot" by Wattpad user Rose Sawyer, a 19-year-old from California.
Finalist stories are:

"Left to Nowhere" by Alicia Cassandro, a teen from Melbourne, Australia
"Demons in Paradise" by Sophia Huang, a 15-year-old from California
"You Read Too Much" by Oli Mollard, a 14-year-old from Palmerston North, New Zealand
"Third Time's a Charm" by Anne Lutz, a 19-year-old from Idaho
"Shattered" by Tina Wu, a 16-year-old from New Jersey.
More than 250 entries were submitted and nearly 20,000 story reads were logged on Wattpad from all over the world, a testament to the extensive reach of Wattpad and the universal need to tell tales of teenage life. Stories were judged by writing style, narrative quality, and popularity among Wattpad users. The first-place prize is $250, and finalists each receive $100.
Readers interested in seeing additional entries in the contest can search under the hashtag #MyLoveAndProfanity on Wattpad.
The Love & Profanity enhanced eBook will be available August 1.
About Switch Press
Launched in 2014, Switch Press offers brave and dynamic books and media that reflect the lifestyles, aspirations and everyday realities of young adults. The Switch Press product line includes contemporary nonfiction and fiction in a variety of formats, genres and subjects such as graphic novels, cookbooks, craft/how-to, historical fiction, fantasy and memoir. Switch Press is a trade imprint of Capstone. Learn more at http://www.switchpress.com or follow us on Twitter @SwitchPressPub.
About Wattpad
More than 40 million people have joined Wattpad, making it the world's largest community of readers and writers. People use Wattpad to connect with each other while they discover and share millions of free stories. Wattpad stories are available in more than 50 languages and can be read or written from any phone, tablet or computer. The company is proudly based in Toronto, Canada. Learn more at http://www.wattpad.com