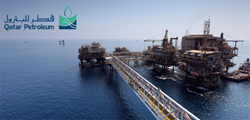 "Qatar Petroleum is committed to operational excellence and their mission to maximise efficiency is fully in line with eVision's software solutions"
(PRWEB) July 09, 2015
eVision Industry Software, market leading provider of electronic Control of Work software, is pleased to announce the go live of Permit Vision on Qatar Petroleum's site PS3. The go live marks a key step in the rollout on Qatar Petroleum's four assets across the north-eastern quadrant of Qatar's territorial waters.
The implementation of Permit Vision on Qatar Petroleum's assets is a major step for eVision, says Neil Currie, eVision Industry Software Chief Product Officer: "We take great pride in being the provider of electronic Permit to Work software for Qatar Petroleum. Qatar Petroleum is a world class oil and gas corporation, and it is very exciting for eVision to be able to contribute to Qatar Petroleum's constant drive towards better, safer, and more efficient processes across its assets."
Qatar Petroleum is committed to operational excellence and their mission to maximise efficiency is fully in line with eVision's software solutions. eVision's electronic Control of Work system speeds up the verification process and guides users through a user-friendly authorisation process, thereby stimulating responsibility for and awareness of safety. Also, a live overview of all processes on all sites promotes more clarity and efficiency: plot-plans ensure an accurate overview of permits and isolations at the click of a button.
Earlier this year, Qatar Petroleum's PS2 went live as part of a staged implementation plan. Further steps in the rollout across Qatar Petroleum's assets include the training and implementation on Halul and NFA.
About Qatar Petroleum
Qatar Petroleum (QP) is a state-owned public corporation established by Emiri Decree No. 10 in 1974. It is responsible for all phases of the oil and gas industry in the State of Qatar. The principal activities of QP, its subsidiaries and joint ventures are the exploration, production, local and international sale of crude oil, natural gas and gas liquids, refined products, synthetic fuels, petrochemicals, fuel additives, fertilizers, liquefied natural gas (LNG), steel and aluminium. http://www.qp.com.qa
About eVision
eVision Industry Software is an international software development company specializing in operational safety. eVision is based in The Hague, The Netherlands, with regional offices located in the United Kingdom, Middle East, and United States. eVision has a global partner network and clients on five continents. eVision's flagship product Permit Vision is the market leading Integrated Safe System of Work which integrates permit to work software, risk assessment, isolations management processes, and external work order systems into one user-friendly system. http://www.evision-software.com