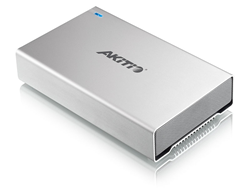 (PRWEB) July 12, 2015
"Akitio" was featured on NewsWatch as part of its monthly Tech Report, which features the latest and coolest technology products available to consumers. Amanda Forstrom, a technology expert and special reporter for NewsWatch, conducted the review and shared with viewers how this company offers a wide range of storage devices.
In a digital world where documents and media files can pile up quickly, it's important to have storage devices readily available. So a new company called Akitio makes great computer storage products. They make products that fulfill any type of need, including USB, FireWire, eSATA and now Thunderbolt and USB 3.1.
Akitio has simple storage products for home use that sell for as little as $10 and prosumer products like their 4 Bay Thunder2 QUAD mini that can be ordered with four six-terabyte SSD's at the staggering price of $25,999 – maybe not necessary for the average consumer but it's definitely great for any commercial usage.
One standout product is the Thunder2 Dock. This device allows users to connect their older FireWire, USB and eSATA drives to their new Thunderbolt equipped computer through one Thunderbolt cable. For those who don't know what thunderbolt is, it's the newest and fastest way to transfer files, reaching speeds of up to 20 Gigabits per second. To put that in real world perspective, users could transfer around 500 songs in a single second.
To learn more, visit http://www.akitio.com today.
About NewsWatch
NewsWatch is a weekly 30-minute consumer oriented television show that airs on the Discovery Channel and ION Network. NewsWatch regularly features top technology products and services, mobile applications for iOS, Android, and Windows devices, unique and beautiful travel destinations around the world, health and medical tips, and entertainment interviews on the show. NewsWatch airs on the Discovery Channel at 7:00 – 7:30 AM ET/PT.
NewsWatch is located in the greater Washington, DC area and has been on air for over 25 years. For more information or to watch the most recent episode, visit http://newswatchtv.com/tech-report.html.