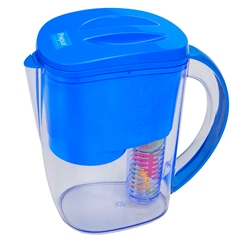 Steve Steinway added, "We are enormously proud of our new Propur™ Infused Water Filter Pitcher. The water tastes great, and by filtering water instead of buying bottled water, we are all doing immeasurable good for the envi
Commerce Township, Michigan (PRWEB) July 09, 2015
Lincoln-Remi Group LLC, d/b/a Propur™ Water Purification Systems, a leading global gravity water filtration technology manufacturer and distributor announced today the release of the new Propur™ Infused Water Filter Pitcher.
"It is no secret consumers want to drink the purest and healthiest water possible," said Steve Steinway, Propur™ CEO. We created a product that provides great tasting water with both natural and health benefits. The Propur™ Infused Water Filter Pitcher is attractive and most economical by requiring less frequent filter replacement. The Propur™ pitcher is PBA and BPS free, stores in the refrigerator door or on shelf, features a 9-cup capacity, easy to remove fruit infusion tube, ergonomically designed handle and no unsightly filter cartridge hanging into the pitcher. The Propur™ Infused Water Filter Pitcher video demonstrates how easy it is to use.
Unlike "regular" water filter pitchers that use disposable filters which may only improve taste and odor, the Propur™ Infused Water Filter Pitcher comes with the revolutionary ProOne® G2.0M "All-In-One" water filter technology by Propur™, which removes and/or substantially reduces contaminants including heavy metals, fluoride, pharmaceuticals, VOC's, bad taste and odor, and more! The ProOne® G2.0 filter has been tested for over 200 contaminants by an independent certified water testing laboratory and certified by NSF. Please visit Propur™ lab reports for details.
The ProOne® G2.0 filter is silver impregnated to help inhibit the growth of bacteria. Easy to clean, reusable and can last up to 5 times longer than "regular" disposable water pitcher filters.
About Propur™
Propur™ is a customer focused company offering a full line of portable counter top gravity water purification systems and water filtration products featuring the latest ProOne® G2.0 water filter element technology. Propur™ systems can be used with just about any water source including tap, stream, river, pond, lake and rain water.
The Propur™ Infused Water Filter Pitcher and other Propur™ products are available from Propur™ Authorized Dealers or visit Propur™ for details.
Media inquiries should be directed to:
Steve Steinway
800-544-3533
steve(at)propurusa.com