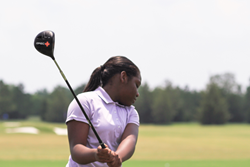 "Golf teaches kids important life skills, but it has also become an exclusionary activity with cost being a major factor in perpetuating that perception." Richard Stamper, president and CEO, DV8 Sports
Atlanta, Ga. (PRWEB) July 07, 2015
DV8 Sports, a company committed to growing participation in and the enjoyment of golf, announced a Kickstarter campaign to help launch EPEC™, the golf industry's first upgradeable junior golf solution. The 35-day campaign seeks funding to fuel DV8 Sports' first production run of EPEC and to support a broader market launch later this year.
EPEC junior golf clubs address one of the most serious obstacles to introducing kids to golf—cost. With traditional brands, parents are forced to purchase news sets of clubs each time a child grows as little as 3 inches, which leads to an out-of-pocket and recurring expense of up to $400 every 12-18 months. With EPEC's patented technology, junior golfers will only need to upgrade to a single, longer shaft and adjust iron heads using EPEC's innovative head weighting system. Over the course of a junior golfer's play, EPEC will save parents as much as 50-60 percent as compared to traditional alternatives.
The secret to EPEC is DV8's patented coupler technology that allows club heads to be interchanged on a single shaft in less than three seconds. This is the same technology at the heart of DV8's adult backpack product that was successfully funded on Kickstarter last summer and is now being sold online and in select retailers in North America. With the addition of interchangeable head weight technology, EPEC becomes a complete solution for juniors who are the future of golf.
"As an industry, we have to finds ways to lower the cost obstacles of the game, and EPEC is one important step in that direction," said Richard Stamper, president and CEO of DV8 Sports. "While there are lots of great brands and products for kids on the market, they all share one unfortunate quality—they force parents to replace entire sets and many families just can't afford that. We believe EPEC will revolutionize the junior market and set the stage for an unprecedented growth spurt in participation."
Like its adult counterpart, EPEC will be non-conforming to USGA equipment regulations meaning EPEC equipment cannot be used in USGA sanctioned junior competitions.
"While some may view this negatively, the team at DV8 Sports sees just the opposite," said Stamper. "Golf is a wonderful game that teaches kids important life skills, but it has also become an exclusionary activity with cost being a major factor in perpetuating that perception. EPEC seeks to break down those barriers and is looking to Kickstarter to help tell DV8's epic story."
DV8 Sports' EPEC Kickstarter campaign offers a number of ways to participate in the campaign. Families, golf facilities and even individuals who want to donate clubs to a junior golf charity will find pledge levels specifically tailored to their interests. This campaign is an opportunity for all to come together for the good of the game and to help golf find its next generation of players, community leaders and responsible adults.
About DV8 Sports
DV8 Sports was founded in 2009 by accomplished inventor and engineer Pat Brady, holder of more than a dozen patents, telecommunications executive Don Akerberg, and Callaway Golf, Srixon and SkyCaddie veteran Richard Stamper. The company is based in Atlanta, Ga. and defies convention by offering first-of-their-kind patented golf solutions for both adults and kids. For more information, please visit http://www.DV8Sports.com.
To get the latest news and updates from DV8 Sports, "like" them on Facebook or follow them on Twitter, Instagram, Vimeo or on YouTube.