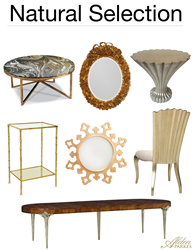 High-end furniture is embracing the beauty and wonderment of the outdoors by infusing organic elements into its designs.
Jacksonville, FL (PRWEB) July 08, 2015
Mother Nature can be one very sophisticated lady. Organic shapes, natural materials and nature-inspired details are everywhere in the luxury market for home furnishings, and it's expected to become a major style influence in your home. "High-end furniture is embracing the beauty and wonderment of the outdoors by infusing organic elements into its designs," said Lynne McArdle, the owner of Alden Parkes.
Major trends to look for:

Gold and silver: The precious metals still hold center stage, but this season they often appear with a brushed or leafed finish for a softer edge that blends especially well with other materials. Even if gilded tones and bling is not your style, using just a touch of gold and silver in an accent piece can catch your eye and give your sanctuary that finishing touch.
Natural shapes: Designers have always taken inspiration from the world around them; this year's emphasis on luxe makes the familiar new again. "I've picked up interesting shaped rocks, exotic flowers and little mementoes during my time spent outdoors all over the world," explained McArdle. "I've always wanted to display these beautiful things in my home, but they typically are stuffed in a drawer and never seen or enjoyed again. This inspired me to take the elements of nature that are close to my heart and infuse them into home furnishings designs so I can prominently display them in my home."
The wave: After years of straight-edged modern designs, the high end has rediscovered the undulating line. Look for waves, flutes and curls on everything from chair backs to occasional tables.
Figurative wood and stone: Beautiful wood and stone are perennials in luxury home furnishings but this season's trends turn it up a notch. Top of the list: the natural patterns found in highly veined stone, and woods with a pronounced grain, all finished and polished to make the most of the natural patterning.
Look for "natural glam" trend to gain strength into 2016. "From the ebb and flow of the ocean waves, the exquisite details of garden roses and the raw nature of bamboo, high-end furniture companies will continue adding natural elements in their furniture designs," said McArdle.
About Alden Parkes:
Alden Parkes is a high-end furniture manufacturer based in Jacksonville, FL owned by entrepreneurial veterans Lynne and Khrys McArdle. Alden Parkes offers an extensive line of home furnishings: upholstery, occasional tables, dining, cabinetry, mirrors, accessories and lighting. Their commitment to quality begins with materials. Premium woods, from solid mahogany to weathered driftwood acacia, are masterfully carved by hand and paired with solid brass hardware. Finishes range from deep brilliant sheens to subdued, casual distressed applications.