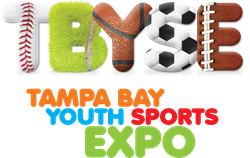 Tampa, FL (PRWEB) July 08, 2015
The Skills Center, Inc. is excited to accelerate the lives of area youth during the Tampa Bay Youth Sports Expo (TBYSE), Saturday, July 18th, 9 a.m. – 2 p.m., at the Tampa Convention Center. This annual event engages pro sports teams and players with more than 1,500 youth during a one-day comprehensive program to educate, train and empower youth, parents, coaches, and sport administrators.
Professional athletes Vincent Jackson of the Tampa Bay Buccaneers and Victor Oladipo of the Orlando Magic are excited to join the sports-based youth development movement by providing concentrated specialty clinics throughout the day.
Established as a fundraiser for The Skills Center, Inc., the TBYSE sharpens the skills of youth while teaching invaluable information that is applicable in both sport and life. This event is the premiere one-stop shop for all things youth sports related.
Offering a smorgasbord of fun, the interactive skills zones allow participants to glean from trainers and athletes from the Tampa Bay Lightning, Tampa Bay Rays, Tampa Bay Buccaneers, Tampa United Volleyball, First Tee of Tampa Bay, Cheer Girls Entertainment and others. Dietitians from Publix Super Markets, representatives from Tampa General Hospital and Preston Jackson from Big County Preps will host workshops on nutrition, safety and college preparation.
This year's activities include:

Nine interactive skills zones
Four specialty clinics
Live workshops and demonstrations – Building the Student Athlete
The Exhibit Zone
The Character Awards – honoring local coaches and administrators
Tyler's 3-on-3 Basketball Tournament
"While participants hone athletic talents, they also learn to use their experiences to become better students, leaders and members of the community," said Celeste Roberts, executive director, The Skills Center, Inc. "This is the third year for the Youth Sports Expo and it's getting bigger and better."
While youth participate in the interactive skills zones, parents, coaches, and program administrators will have the opportunity to attend a series of on-site educational workshops and gather valuable resources from vendors at the Exhibit Zone.
Established in 2007, The Skills Center's mission is to intentionally utilize athletics as the mechanism to accelerate academic achievement, build character, and promote health & fitness for young people ages 3-18 in Tampa Bay. Using sports as a powerful learning tool, the organization teaches youth how to transfer the skills learned naturally through sports to other environments like school, home and the community.
The Tampa Bay Youth Sports Expo (TBYSE) is the region's premiere forum to educate, train and empower youth, parents, coaches, and sport administrators in effective youth development through sports.
More information: http://www.tbyse.com
###
Contact: Estella Gray, 850-284-3386