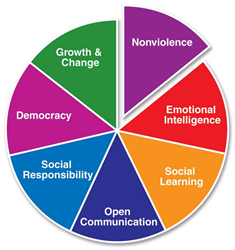 The Sanctuary Model will have a direct effect on the quality of care kids receive.
Des Moines, IA (PRWEB) July 09, 2015
Orchard Place, mental health experts for Iowa's children, is proud to announce it has adopted the Sanctuary Model, a blueprint for clinical and organizational change. This model promotes safety and recovery from adversity by teaching a trauma-informed care approach to organizational change and treatment. This training recognizes that just as humans are susceptible to adversity, organizations themselves are equally as vulnerable.
Funding for the first year of the project came from the Community Foundation of Greater Des Moines, Mid Iowa Health Foundation and the United Way of Central Iowa.
"Orchard Place continues to improve the lives of thousands of children with mental health issues in Iowa," said Suzanne Mineck, President of Mid-Iowa Health Foundation. "The Sanctuary Model will have a direct effect on the quality of care kids receive and we are proud to support this important initiative."
The Sanctuary Model originated in the Philadelphia area in the early 1980's, created by Dr. Sandra Bloom and her colleagues. Dr. Bloom was a featured speaker at the 2014 Trauma Informed Care Conference that was sponsored by Orchard Place. Over time, the model has been adapted for a wide range of human service organizations.
"Our goal is to use this set of tools to provide improved outcomes for clients, boost staff retention and create a safer, healthier organization," said Orchard Place Chief Executive Officer Anne Starr. "We are extremely fortunate to have received funding to launch this major initiative from organizations that recognize the importance and positive outcomes the Sanctuary Model provides."
Orchard Place has established a core team of 34 individuals from across the organization to lead this important project. The Sanctuary Model will be used by all 400 employees of Orchard Place.
About Orchard Place:
Orchard Place is Des Moines' oldest charity providing mental health treatment and expertise serving Iowa's kids. Our inpatient, outpatient and community programs annually serve more than 10,000 children from birth to age 22. Four operating divisions are included in the Orchard Place umbrella of services: Child Guidance Center, Orchard Place Campus, PACE Juvenile Center and the Integrated Health Program. More information can be found at http://www.orchardplace.org.