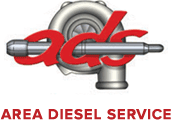 As long as customers want easily installed high-performance turbos, Area Diesel will feature BorgWarner among our many outstanding products.
Des Moines, Ia. (PRWEB) July 08, 2015
Area Diesel Service, Inc. recently joined BorgWarner Turbo to receive a commemorative plaque, which recognizes the diesel products provider's position as a BorgWarner Franchise Distributor for turbocharger products in the North American aftermarket. After accepting the award, Area Diesel Service Founder & President Val Leefers was very appreciative: "First, we want to extend a sincere 'thank you' to all the people at BorgWarner; their hard work results in extremely powerful, high-quality turbos that diesel enthusiasts request by name. I also want to thank my team for providing the unbeatable service that keeps people turning to Area Diesel for BorgWarner turbos and the other diesel parts they want. Their service and expertise are what led to our position as a Franchise Distributor."
During the brief ceremony to honor the sales reps and diesel specialists at Area Diesel for their outstanding work distributing the turbocharger manufacturer's products, BorgWarner Regional Sales Manager Sam Tuley presented the plaque to Val Leefers and his son, Vice President & Turbo Department Manager Von Leefers. While BorgWarner created and presented the plaque this year, it actually commemorates Area Diesel for earning the Franchise Distributor designation in 2011, when the company was selected as one of just nine original Franchise Distributors.
Today, there are over 200 distributors for BorgWarner Turbo Systems, yet only Area Diesel and eight others have been selected by BorgWarner for the Franchise Distributor program. Area Diesel actually began providing customers this line of turbos, which would eventually bear the BorgWarner seal, during the late 1970s, as Val Leefers noted: "Just a few years after I founded Area Diesel, we got the opportunity to distribute some of the most impressive turbos we had ever installed. Back then, the line was owned by Schwitzer. The turbos, the service and our relationship have only gotten better over the years." As the elder Leefers alluded to, BorgWarner later purchased Schwitzer along with AG Kühnle Kopp & Kausch and began offering the turbo products under the BorgWarner Turbo Systems brand.
As part of its commitment to innovative diesel performance products, Area Diesel counts on BorgWarner turbos to deliver the powerful boost its customers demand. As stated on the Area Diesel website, which features an expansive ecommerce store, the company distributes BorgWarner turbos and other performance-improving parts for a wide range of diesel engines:

Light-duty, medium-duty, and heavy-duty trucks
Industrial vehicles
Agricultural vehicles
Construction vehicles
Off-highway equipment
Import cars and trucks
When asked to comment on how long Area Diesel plans to feature BorgWarner Turbo Systems, Val Leefers stated simply, "As long as our customers expect high-performance turbos that are built with industrial-quality materials and are simple to install, you'll find BorgWarner featured among our other outstanding turbo products."
For more information on BorgWarner Turbo or on Area Diesel Service, contact Corey Stallings at CoreyS(at)areadiesel.com or visit the distributor's website. To read the latest news and information on diesel performance products, visit the Well Revved blog at areadieselservice.com/blog or follow Area Diesel on Google+, Facebook, Twitter and Instagram.