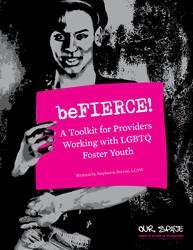 Hayward, California (PRWEB) July 14, 2015
Our Space, a program of Sunny Hills Services / Bay Area Youth Center, recently introduced a ground-breaking publication called beFIERCE! a 40 page toolkit for people working with LGBTQ foster youth. beFIERCE! was written by Our Space director, Stephanie Perron, LCSW, in collaboration with LGBTQ foster youth and service providers. The publication was funded by the Walter S. Johnson Foundation.
beFIERCE! is a starting point—a call to action, self-reflection and continued growth. It invites providers to bravely do what many others have not – to show LGBTQ foster youth unconditional positive regard; to see them for more than the files that may be written about them and the behaviors they may be exhibiting. It instructs providers to see the bigger picture and to actively engage in supporting LGBTQ foster youth by learning what these young people really need. The toolkit imparts much of the wisdom, power and voice of the youth who are held at the heart of the project, and whose reflections are shared throughout its many pages.
beFIERCE! is divided into six working sections; Frames, Intersections, Engagement, Resources, Critical Conversations, and Exploring Self. Each section gives practitioners step by step guidance on how to experience their young clients through an intersectional and trauma-informed lens, and how to engage them in ways that build strong, trusting relationships, and ultimately how to be an informed, educated, compassionate supporter of LGBTQ foster youth.
"We were honored to support Our Space in the creation of beFIERCE! It is one of the most honest and relevant publications that I've encountered to target this population of vulnerable young people," said Yali Lincroft of the Walter S. Johnson Foundation.
The beFIERCE! toolkit can be downloaded here or viewed as a webinar here.
###
Our Space is a division of Sunny Hills Services (SHS). SHS operates a spectrum of programs in Hayward, Marin, Napa and Sonoma Counties for children and youth who struggle with emotional and behavioral problems, as well as those impacted by the child welfare and juvenile justice systems. Programs include k-12 education, behavioral health services, supporting housing for LGBTQ foster youth and transition-age foster youth, and youth development. More than 2600 children, youth and their families will find help at Sunny Hills Services in 2015.