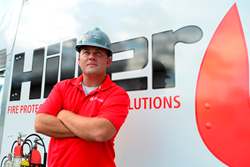 "I just did what I would hope somebody would do for me," he said. "I didn't do it for any other reason than to hope that someone could go home and see their family."
Pensacola, Florida (PRWEB) July 26, 2015
The Hiller Companies has announced that Dan Mabry, due to his quick thinking and fire safety training, will be honored by Escambia County Fire Rescue later this year for his act of heroism.
When Dan Mabry drove to work on Friday, June 26, 2015, he thought it was just another day. Looking forward to the weekend, he had no idea that in a matter of minutes, he would come upon a dangerous accident and save a man's life.
At 6:45 that morning, a truck crashed into the gas pumps at the Raceway gas station on Highway 29 in Pensacola, FL causing flames to erupt from the pumps and ignite the truck. Mabry, without a second thought, pulled over to help.
"I just happened to be driving by and I saw flames," Mabry, General Products Technician at The Hiller Companies said. "I had a truck full of fire extinguishers and thought I could use what I have learned in the trade at Hiller for the last 12 or 13 years. I could stop and help put this fire out."
What Mabry didn't know was that there was an unconscious man still in the cab of the truck as the flames began to grow.
"The flame got unsafe and it started flaring up quickly. As I approached the accident, I found out there was a guy in the truck unconscious," Mabry said. "So another guy and I ran out there, and we got him out and got him to the other side of the building. By that time, the fire trucks came and dumped foam on it and water on it and they knocked that flame down and put the fire out pretty quickly."
Pete Whitehouse, General Manager of Hiller's Pensacola office, is not surprised that Mabry would stop to help.
"I think this recent act of heroism is amazing, however it is typical of the attitude and enthusiasm Dan puts into his job every day," Whitehouse said. "All of our technicians are well trained in Fire Protection and our General Products mobile fire extinguisher recharge vehicles are always well stocked with extinguishers. But without Dan's selflessness, things could have turned out differently. We are all very proud of Dan for his quick action and for putting others ahead of his own personal safety."
Mabry's actions have been recognized by Escambia County Fire Rescue.
"Escambia County Fire Rescue is grateful for and commends the quick actions taken by Dan Mabry June 26, 2015 at the Racetrack fuel pumps. It appears that the driver of the pickup truck which crashed into the fuel pump was experiencing a medical episode which not only left him incapable of driving, but also rendered him unconscious," Fire Chief Patrick Grace said. "Had Mr. Mabry and his fellow Good Samaritan not acted as quickly as they did, without reservation for their own personal safety, the outcome would, in all likelihood, not have been nearly as positive."
Grace noted that Mabry will be recognized by Escambia County Fire Rescue at their annual awards ceremony later this year.
"I think it's a wonderful reflection on the quality and character of the people Hiller employs," Grace added. "His actions took great situational awareness and courage."
Mabry is just relieved that he was able to help get the man to safety before the flames engulfed the cab of the truck.
"I just did what I would hope somebody would do for me," he said. "I didn't do it for any other reason than to hope that someone could go home and see their family."
The Hiller Companies offer fire protection products and services that are preserving lives and property all around the world. Headquartered in Mobile, Alabama, Hiller extends its reach globally as well as in domestic markets with offices in Alabama, Florida, Louisiana, Massachusetts, South Carolina, Texas and Virginia. We are proud to safeguard everything from small businesses to nuclear testing facilities, yachts to aircraft carriers, and gas stations to offshore platforms.
WEAR News Report: https://vimeo.com/132328153
If you would like more information about this topic, please contact John Mackey at 251-661-1275 or email at jmackey(at)hillercompanies(dot)com. Visit our website at http://www.hillercompanies.com/