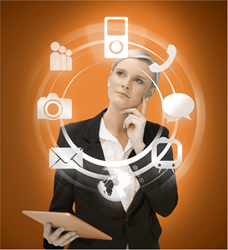 Greater than 50% of physicians don't prefer face to face meetings with pharmaceutical representatives. (Source: 2014 ZS Associates)
Monmouth Junction, NJ (PRWEB) July 15, 2015
The old pharmaceutical rep-based sales model has broken down, and an effective alternative has not yet fully emerged to replace it. (Source: Multichannel Closed Loop Marketing Report 2012, CapGemini) The effectiveness of the millions of dollars spent on promotion to prescribers is hard to measure, busy and overcommitted physicians are resistant to close contact with pharma companies, and the reimbursement environment is changing rapidly. Anyone competing for the attention of physicians and other health care buyers faces a significant challenge. (Source: As Media Channels Expand and Budgets Contract, Pharmaceutical Companies Try to Find the Right Marketing Mix 2015, ZS Insights)
"What we bring to this market is an approach that unifies technology, data, and marketing services in one comprehensive solution," said Venkat Gopi, Supra Nimbus Chief Executive Officer. "Our combination of closed-loop analytics and multiple marketing channels gives life sciences clients a clear insight into those they are trying to reach, multiple ways to reach those targets in the most effective and least intrusive way, and analytics to measure how effective their efforts are."
The Supra Nimbus suite can operate as a standalone, with or without a variety of add-on modules, and can also work effectively with existing Sales Force Automation tools, providing them with the message execution, physician behavior, and brand performance analytics these tools typically lack.
About Supra Nimbus
Supra Nimbus is a group of life sciences, analytics, data, web, and mobile communications entrepreneurs that enables pharmaceutical and medical device companies to profile, communicate with, and engage with health care professionals in order to effectively market and sell their products and services. It provides customer engagement tools at all levels, from C-Suite to brand managers to field sales. For more information, visit http://www.supranimbus.co.
All company, brand or product names contained in this document may be trademarks or registered trademarks of their respective holders.