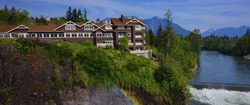 "Recognizing the desire of travelers for comfort & style while enjoying an eco-friendly product, BedVoyage originally launched as a travel linens company in 2008. So, it was no surprise when hotels started inquiring," says Sharon Stuart, CEO & Founder.
Woodinville, WA (PRWEB) July 13, 2015
Go "green" in your beds with bamboo. Due to increased demand for eco-friendly options in hospitality and recognizing that savvy travelers are looking for a new, refreshing sleep experience, BedVoyage has announced their Eco-Luxury Bamboo Linen Collection for hotels, inns, and spas. The Hotel Collection features the same soft, luxurious feel of the BedVoyage Home Collection but is available in options that are better suited to hotel and spa needs.
Bamboo linens provide the softest and most comfortable sleep experience, which further enhances the guests' enjoyment of their stay. The round, smooth fibers are woven into a tight twill that gets softer with each wash, has a luxurious drape, and is hypoallergenic. In addition, rayon from bamboo is a thermal regulating fabric which adjusts; either releasing heat or retaining warmth depending on the sleeper's needs. Guests and housekeeping staff also appreciate that the linens are bacteria, mold, and mildew resistant and stay fresher longer.
Hotels who have made the transition to BedVoyage linens are realizing a side benefit in the form of huge utility savings since the bamboo linens launder in cooler temperatures and don't require bleach. This savings, combined with revenues generated from the exclusive BV At Home co-op program (which allows guests to purchase the linens for their home use), make this a very attractive option for hotels who want to upgrade to luxury linens while offering a more "green" product to their guests.
BedVoyage manufactures eco-friendly, luxury, rayon from bamboo bedding and towels for hospitality, spa, health care, and home use. The line includes sheets, blankets, reversible duvet covers, quilted coverlets, shams, and towels.
###