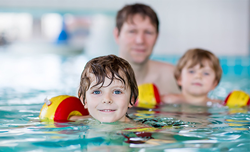 By being aware of the most common injuries and how to avoid them, parents can keep their families safe and secure this summer
Orange, Calif. (PRWEB) July 07, 2015
Today, the physicians at Allied Anesthesia, who provide services to Children's Hospital of Orange County and other major medical facilities in Orange and San Bernardino counties, released a series of tips to help children stay safe over the summer months.
Summer can be a particularly hazardous time of year for children, who spend more unsupervised time outdoors.
The most common causes of injuries and death for young children are drowning, biking, falls, car accidents and pedestrian mishaps.
"By being aware of the most common injuries and how to avoid them, parents can keep their families safe and secure this summer," said Dr. Paul Yost, an Allied anesthesiologist and director of cardiac anesthesia at St. Joseph Hospital of Orange. "The fewer children we see in the emergency room, the happier we are."
Here are some tips to help children avoid the emergency room this summer:
Pedestrian accidents

Children younger than 10 should never cross the street alone or play unsupervised near roadways.
Teach young children to look left, right and left again before crossing the street and to make eye contact with drivers as they are walking.
Tell them never to run out in the street to chase a ball or pet.
Water safety

Children should always wear a life jacket when in a boat or riding on a personal watercraft.
Never leave children alone near swimming pools or other bodies of water even if they know how to swim.
In group situations, designate a "water watcher," who agrees to monitor the water at all times.
Heat-related injuries

Never leave a child alone in a car, not even briefly. Place your purse, briefcase or cell phone in the back seat next to your child as a reminder.
When parked, keep your car locked to keep children from climbing inside and becoming trapped.
Apply sunscreen with an SPF of at least 15 on your child 30 minutes before he or she goes outside. Reapply the sunscreen every two hours and after swimming or sweating.
Make sure children drink lots of water during the day to stay hydrated.
Bicycles, skateboards and scooters

Children should always wear helmets when they ride bikes, skateboards, skates or scooters.
Limit riding to daylight hours.
Children younger than 10 should stay on a bike path or sidewalk.
In addition to helmets, skateboarders and skaters should wear wrist guards, knee pads, elbow pads and mouth guards.
Fireworks

The safest way to enjoy fireworks on July 4th is by attending a public display.
Even "Safe and Sane" fireworks can cause severe burns and eye injuries. 
About Allied Anesthesia
With over 100 highly qualified physician anesthesiologists on staff, Allied Anesthesia provides adult and pediatric anesthesia services to St. Joseph Hospital of Orange, CHOC Children's Hospital, St. Jude Medical Center in Fullerton, San Antonio Community Hospital in Upland, St. Mary's Hospital in Apple Valley and many other Southern California health care facilities. In 2014, Allied Anesthesia joined with Fullerton Anesthesia Associates and Upland Anesthesia Medical Group to consolidate best practices in more than six hospitals and more than a dozen ambulatory surgery centers. The expanded medical practice is dedicated to offering the highest comprehensive quality of care and the most cost-effective procedures in all facilities they serve. All Allied physician anesthesiologists are board certified in Anesthesiology and they staff and manage the most efficient operating rooms in Southern California. Allied is a member of the California Society of Anesthesiologists, the American Society of Anesthesiologists, and the Anesthesia Quality Institute.
For more information, visit: http://www.alliedanesthesia.com