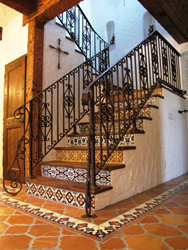 We are offering some great prices to our customers for our 10th year anniversary!
Leander, Texas (PRWEB) July 08, 2015
Rustico Tile and Stone is the leading distributor of authentic Mexican tile and stone products for consumers around the world, with a customer base encompassing national floor retail stores, architects, designers, builders, and residential and commercial buyers. Rustico Tile and Stone is celebrating its 10th Anniversary in business.
Specializing in hacienda-style décor, the small business is currently the largest manufacturer in Mexico for authentic, hand-made Saltillo tiles, and its Leander (outside Austin, TX) location is the largest distribution point for the product.
Rustico also makes Talavera tiles, Encaustic-style Cement tiles, and Cantera stone, and offers an extensive online site where customers can order from a variety of sizes, materials and designs. Each type of tile and stone is handcrafted according to the customer's specifications, and all products are imported and distributed from Rustico's Austin location.
"We are committed to beating any U.S. competitor's rates," said co-owner Melanie Ocana. "We offer low pricing and global shipping capabilities so our customers can incorporate an authentic piece of Mexico into their home or business décor."
Rustico was launched 10 years ago with an operation of just two people and one single truckload of Saltillo tile from Mexico. Since then, the family-run business has positioned itself as the leader in Mexican tile and stone distribution, providing unrivaled wholesale prices, freight shipping discounts, and superior quality products. Rustico now has over 20 employees in the U.S., and dozens of craftsmen in Mexico.
"We have very good, very talented people in Mexico on our team, and we've watched our families and businesses grow alongside each other," Ocana said. "When they do well, we do well, and customers benefit."
This summer, the company will begin manufacturing its own line of Cement tiles, and Ocana said she looks forward to offering high quality tiles at prices that are superior to those of local retailers.
"It's such a natural fit for people taking advantage of sourcing their Saltillo, Cantera and Talavera tile at our wholesale prices," she said. "Providing our customers with beautiful architectural materials is very rewarding."
For more information about product offerings, price and shipping details, or general inquiries, visit http://www.saltillotileconnection.com. Rustico Tile and Stone is offering generous price discounts throughout the summer in celebration of its 10th year anniversary in business.