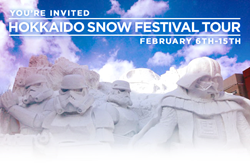 S. El Monte, CA (PRWEB) July 08, 2015
Leading Asia tour operator Super Value Tours has announced an exclusive new tour focused on the Sapporo Snow Festival in Hokkaido, Japan. The tour travels through Hokkaido, Japan's northern most island. "There are several once in a lifetime experiences on this tour; everything from snowshoeing to cruising through magnificent drift ice fields. Guests also have the opportunity to soak in an outdoor onsen, surrounded in snow," explained Roy Liao, VP of Product Development.
The Sapporo Snow Festival takes place over 7 days each February and features intricate snow and ice sculptures. With so many visitors attending the festival, hotels are very difficult to secure. "Given the uniqueness of the tour and the hotel situation, there is only one tour beginning in Sapporo on February 7th, 2016. Space is very limited," continued Liao. For further information on the itinerary and pricing, visit http://www.SuperValueTours.com.