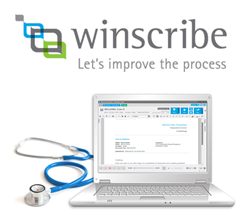 ...Knowing our transcription process was becoming inefficient, we searched for a new option and Winscribe was the solution we were searching for.
Chicago, IL (PRWEB) July 09, 2015
OSMS is a high-volume orthopedic and rheumatology practice with eleven specialists and nine offices located in Wisconsin and Michigan. For over fifty years, they have prided themselves on providing the best in bone and joint care. So, when their team was experiencing a labor intensive and inefficient data entry and documentation workflow process with their standalone dictation system, they knew it was time to seek out a new solution.
"During the discovery phase of the project, it was estimated that OSMS' transcription staff spends about fifty percent of their time manually transcribing medical reports and about forty percent of their time copying or entering data into their EMR," explained William Geyer, Solutions Executive at Winscribe. "Considering the time and costs involved, this inefficient process likely could have been costing OSMS $90,000 or more per year, conservatively speaking."
OSMS' documentation process was also putting them at risk of missing key turnaround time targets related to Stage 2 of Meaningful Use, whose criteria specifies that patients have timely access to view and download relevant health information.
Therefore, after careful consideration and research, OSMS decided to acquire and implement Winscribe Text, a robust clinical documentation and workflow management solution that allows for speech-enabled document creation and advanced reporting.
"In the changing healthcare environment it is essential to be aware of the new technologies available, not only for Meaningful Use requirements, but also to provide the best experience for your patients and staff. Knowing our transcription process was becoming inefficient, we searched for a new option and Winscribe was the solution we were searching for," said Sandy Fragale, OSMS administrator, of the new partnership.
With the Winscribe implementation, patient records and data entry will be better aligned by means of an integration with OSMS' EMR system, GE Centricity. The integration will enable dictations and transcribed documents to be directly tied to patient records through automated HL7 distribution from Winscribe Text – removing the need to copy and paste data and manually distribute documentation.
Winscribe Text will further assist OSMS by enabling flexible voice input options for physicians, including dictation via digital recorders, mobile devices, and telephones. Along with flexible dictation options, being able to use speech recognition and customizable templates for document creation will further advance OSMS' documentation processes, by providing faster and more reliable methods. As OSMS begins to utilize Winscribe Text, they will be able to immediately measure and monitor the improvements in their documentation processes.
Following the implementation of Winscribe Text, OSMS expects to:

Improve patient report turnaround time, which will allow for faster patient care and assist OSMS achieve Stage 2 of Meaningful Use
Lower documentation costs and improve staff productivity, by eliminating non-essential manual tasks (e.g. copying and pasting, looking up patient information, etc.)
Increase revenue, by enabling speech-driven documentation and increasing in-house transcription capacity
To learn more about Winscribe Text and Winscribe's full suite of speech productivity and workflow management solutions, please visit http://www.winscribe.com.
END
About Orthopedic & Sports Medicine Specialists of Green Bay (OSMS):
Orthopedic & Sports Medicine Specialists of Green Bay has been providing the best in bone and joint care since 1963. They offer comprehensive orthopedic and rheumatologic services, providing their patients with individualized healthcare solutions. They have a professional, friendly staff and have been a part of their community for over 50 years. Their independence gives them the ability to choose the top facilities, the most experienced physicians, and the best treatment for their patients. For more information, please visit http://www.osmsgb.com.
About Winscribe:
Winscribe is a world leading provider of speech productivity technology supporting business requirements for digital dictation, transcription, speech recognition, speech-enabled documentation and workflow management. Founded in 1995, Winscribe has offices in the USA, UK, New Zealand, Australia and Switzerland, with more than 100 sales partners in over 25 countries supporting more than 350,000 users worldwide.
The Winscribe solution is built on Microsoft architecture, to ensure easy integration and maintenance. Winscribe also supports a wide range of manufacturer-independent dictation devices and is scalable from small, single office locations up to large multinational corporations. Winscribe is fully customizable to meet the needs of a number of significant vertical markets including Legal, Law Enforcement, Healthcare, Transcription, Insurance and Government Sectors. For more information, please visit http://www.winscribe.com.