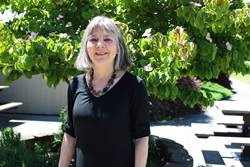 The center is just launching but with Dr. Hawk at the helm, I believe we will be able to accomplish much in the way of improving health outcomes for our neighbors, - Dr. Will Evans
Portland, Oregon (PRWEB) July 09, 2015
University of Western States (UWS), a leader in the field of integrated health care, recently welcomed Dr. Cheryl Hawk as the first executive director of the institutions' new Northwest Center for Lifestyle and Functional Medicine (NWCLFM).
Dr. Hawk received her doctor of chiropractic degree in 1976 from National University of Health Sciences and was in practice full-time for 12 years. While she started her career as a chiropractor, she refined her practice to focus on wellness and prevention with an emphasis on research. She has designed and taught courses on wellness and health promotion for students in different health professions and post-graduate education courses. She has also collaborated on the design and implementation of an online wellness certification program for health professionals offered by the National Wellness Institute. In 1991, she earned a PhD in preventive medicine from the University of Iowa and also became a Certified Health Education Specialist (CHES). She is an author of more than 100 publications in peer-reviewed scientific journals. She has been named "Researcher of the Year" by both the American Chiropractic Association (2003) and the Foundation for Chiropractic Education and Research (2005).
"We are incredibly fortunate to have someone with Dr. Hawk's knowledge and experience in public health and wellness heading up the new center," Dr. Will Evans, executive vice president and provost at UWS said. "The center is just launching but with Dr. Hawk at the helm, I believe we will be able to accomplish much in the way of improving health outcomes for our neighbors."
The NWCLFM, a community-focused health care center of excellence, is hosting an official launch for the Portland public on August 1, at the university's Summer Social. As part of the event, community members are invited to campus and will be asked to provide input on what makes it hard and what makes it easy to be healthy. There will then be a community forum later that day to discuss these findings and talk about how the center can address these issues and help make an impact on health outcomes. The Summer Social also includes free food, health care vendors, a ping-pong tournament, a kid's coloring contest and prizes. To learn more and to RSVP visit http://www.uws.edu/event/summer-social.
"The center is really about finding out what the community needs are and how we can help. It's not about us guessing the issues and creating initiatives we think are interesting," said Dr. Hawk. "This event will just be the beginning of our conversations with the public so we can learn what they need to be healthy. I am honored to be a part of the groundbreaking health care movement."
About University of Western States
University of Western States provides a science-driven curriculum that delivers a solid foundation and competitive edge in preparing students for clinical practice. UWS is a regionally accredited, independent non-profit institution dedicated to improving the health of society through its educational programs, research and clinical services. Founded in 1904, the university offers a doctor of chiropractic degree program; master's degrees in exercise and sports medicine, human nutrition and functional medicine, and diagnostic imaging; a massage therapy certificate program; approved continuing education programs for licensed health care professionals; and clinic services in five locations through Health Centers of UWS. UWS is a founding member of the Oregon Collaborative for Integrative Medicine, an organization that aims to advance integrative health care through education, research, patient care and advocacy. To learn more about University of Western States and its academic programs, go to uws.edu.
About Northwest Center for Lifestyle and Functional Medicine
The Northwest Center for Lifestyle and Functional Medicine was launched in 2015 as a center of excellence highlighting ways to reduce lifestyle-related health conditions such as diabetes, obesity and hypertension. The center's vision is to promote healthy behaviors and positive lifestyle changes in order to achieve optimal quality of life for the members of our community through service, education and research. The center believes in integrated, conservative, patient-centered approaches to address lifestyle-related health conditions. To learn more about the center visit uws.edu/nwclfm.