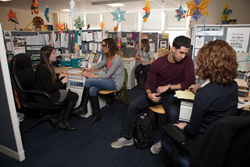 Expanding PACT to transfer students means that a huge part of our population will now get the personalized attention of a mentor from day one to help them succeed and get to graduation day.
Dobbs Ferry, New York (PRWEB) July 09, 2015
Mercy College is once again breaking down the silos of higher education and raising the bar on student success. This fall semester, the College will begin providing PACT Mentors to all undergraduate students, including transfer students. This expansion means that nearly 6,000 undergraduate students will now be assigned a PACT Mentor.
PACT Mentors are cross trained in academic advising, career readiness, student life, financial aid issues and leadership development. The College has seen a 10 percentage point increase in student retention accomplished through a high-touch, holistic mentoring approach where a PACT Mentor serves as the "single point of contact" for all things Mercy.
With more than 50 percent of Mercy's undergraduate population categorized as a transfer student, the College listened to student requests for PACT for all and responded by expanding the successful PACT program to the transfer population. The PACT program is featured as a "Best Practice" for retention and career services with NACE (National Association of Colleges and Employers).

In January 2010, the American Council of Education shared PACT with the White House as a select example of innovation in higher education.
PACT was recognized at the ACE Change and Innovation Lab in Washington D.C. for its work with first generation and nontraditional student attainment in October 2014.
Mercy College President Tim Hall said: "Expanding PACT to transfer students means that a huge part of our population will now get the personalized attention of a mentor from day one to help them succeed and get to graduation day. Along with strengthening student support, we have also been adding faculty positions and filling open faculty spots. We are committed to student success on all levels."
Expanding PACT will allow PACT Mentors to be more specialized in a particular academic school and field of study, which will result the Mentors becoming more proficient in their advising. Mercy College Student Affairs Dean Kevin Joyce said: "The more engaged and empowered a student is, in owning their educational process and being part of the community, the more success they are going to have in college."
Student Raydhiri Hidalgo, who transferred to Mercy said she is excited to get a PACT Mentor: "This is exactly what transfer students need. When you transfer it's easy to feel lost. I'm also a first generation college student and I always have a lot of questions so it will be great to go to one person to ask."
The College will be increasing the PACT Mentors from 26 to nearly 50 professional Mentors. The Mentors will now be assigned by school, and place a greater emphasis on career exploration and preparation.
PACT Mentor Dana Anstett-Castro, who will be focusing on transfer students said: "This expansion is wonderful! Many of our transfer students are adults with jobs and families – so this will help our adult students transition back into college. This is responding to a need that has been here – students wanted this and we listened."
Chief Student Affairs Officer Dr. William Martinov said: "PACT lead to a 10 percent increase in retention. In higher education that is a big deal – it is a game changer. We are always looking for ways to improve student success and this is one step."
PACT Director Rajesh Kumar said: "It is a great opportunity to help our students grow."
Vice President of Student Services Margaret McGrail said: "PACT's expansion is going to be a tremendous gain for the students. The students are going to greatly benefit from these changes."
The expansion was officially launched July 1.
About Mercy College
Founded in 1950, Mercy College is a private, not-for-profit higher education institution that offers more than 90 undergraduate and graduate degree and certificate programs within five prestigious schools: Business, Education, Health and Natural Sciences, Liberal Arts and Social and Behavioral Sciences. Mercy College offers an engaging and personalized learning experience that includes the College's revolutionary Personalized Achievement Contract (PACT) program. The Mercy College PACT is the first program of its kind and now serves as a nationally recognized model for mentoring. http://www.mercy.edu/ 877-MERCY-GO.
###