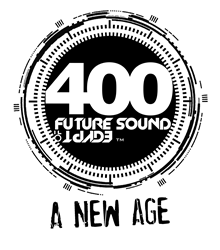 Aly & Fila create true moments in the global EDM experience.
New York, NY (PRWEB) July 08, 2015
Egyptian "uplifting trance" music DJs and producers, Aly & Fila, announce a world tour to celebrate the 400th episode of their popular weekly radio show, "Future Sound of Egypt" (FSOE) in July, 2015. The first U.S. FSOE400 event will take place on August 1st, 2015, at the City National Civic Center in San Jose, California. The Future Sound of Egypt radio show was first introduced to the world in 2006 and has continued to grow to its current state, reaching millions of listeners around the world each week. The FSOE brand has become more than a radio show; it is also a respected record label and branded live electronic dance music (EDM) event.
Each milestone episode of the FSOE radio show has been celebrated by a special live performance featuring Aly & Fila, usually in exotic locations. The 200th episode took place at Egypt's Echo Temple in Sharm el Sheikh on the southern tip of the Sinai Peninsula. In 2013 and 2014 when the FSOE radio show reached its 300th and 350th episodes, respectively, the celebrations likewise went international with parties thrown in the U.S., the UK, Egypt, Mexico, the Netherlands, Argentina, the Czech Republic, El Salvador, Colombia and Poland. This was the first time that the FSOE performances were livestreamed via the Future Sound of Egypt website, affording music-lovers the ability to listen to the events live and simultaneously interact with fellow fans from around the world. These were true moments in the global EDM scene and Aly & Fila have not looked back since. The FSOE400 events will be broadcast live by Dance Foundation.
Aly & Fila (real names: Aly Amr Fathalah and Fadi Wassef Naguib) are Egyptian electronic dance music DJs and producers known for a style of electronic music known as uplifting trance. In the recording studio, they create enigmatic-sounding, evocative music characterized by resonant basslines, driving percussion and opulent harmonies for an uplifting trance sound that has come to be irresistible to their devoted global fanbase. Each year, Aly & Fila perform more than 100 live shows at leading nightclubs and festivals around the world; their weekly radio show, Future Sound of Egypt (FSOE), is broadcast on terrestrial, satellite and Internet radio in more than 30 countries on 40 radio stations and counting.
Aly & Fila FSOE400 world tour dates announced thus far:
August 1st, 2015 City National Civic Center San Jose, CA
August 8th, 2015 Festival Hall Melbourne, Australia
August 14th, 2015 Stocznia Gdansk Shipyard Gdansk, Poland
August 16, 2015 Mandarine Tent Buenos Aires, Argentina
August 18th, 2015 Yassmine Valley Golf Club Hammamet, Tunisia
August 22nd, 2015 One Guatemala City, Guatemala
August 23rd, 2015 Foro Norte Mexico City, Mexico
August 28th, 2015 Forum Karlin Prague, Czech Republic
September 19th, 2015 Prime Hall Minsk, Belarus
More dates will be announced soon.
For more information on Aly & Fila, Armin van Buuren, Andrew Rayel, Armada Music and more, contact EMILY TAN Media Relations (U.S./North America), +1(917) 318-3758, EmilyEmilyTan(AT)aol.com and visit http://www.ArmadaMusic.com and http://www.AlyandFila.com. Follow EMILY TAN Media Relations on Twitter @EmilyEmilyTan.
# # #