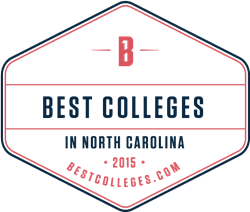 ...the best North Carolina has to offer.
Houston, TX (PRWEB) July 08, 2015
Reflecting the growth in enrollment at community colleges, the new rankings lists from BestColleges.com showcase the top 25 two-year and top 25 four-year schools in North Carolina. No longer focusing solely on schools that offer advanced degrees, equal attention has been given to colleges that train students in a vocation or allow them to complete their general education courses before moving on to a four-year school.
Mayland Community College, the number one two-year school on our list, helped 96% of transfer program students successfully move into a four-year program in 2014. They give students the opportunity to learn a trade, earn continuing education credits or earn a two year degree, and the school is able to award credit for distance courses in 41 states.
Duke University, our number one four-year school, lets students decide how to focus their degrees. They pride themselves on taking students who are active and engaged thinkers; they encourage students find new ways to look at the world, and the success of their undergraduate programs is measured in a 95%, four-year graduation rate.
BestColleges.com's school assessments start by regarding every college and university equally, no matter their size or brand popularity. Rankings are then determined based on acceptance, enrollment, retention, graduation and loan default rates. The last criteria is an indication of post-graduation employment; those who have found work are less likely to default on their loans. The schools in these rankings represent the best North Carolina has to offer.
This resource provides information for students interested in making North Carolina their home. Along with the rankings, students are presented with a short introduction on how to become a state resident, the highlights of life in North Carolina's three main regions and a look at what the two-year and four-year schools offer the state.
Top Two-Year Schools
Mayland Community College
Piedmont Community College
Haywood Community College
Brunswick Community College
Vance-Granville Community College
Top Four-Year Schools
Duke University
University of North Carolina at Chapel Hill
Davidson College
North Carolina State University
Wake Forest University
The complete rankings can be found here.
ABOUT BESTCOLLEGES.COM
BestColleges.com was founded in 2012 with the mission of helping prospective students find the college that best meets their needs. Visitors to BestColleges.com can find the tools and resources to succeed throughout their higher education career. Those in the college planning stage can take advantage of college rankings, a searchable database of schools, and financial planning guides.