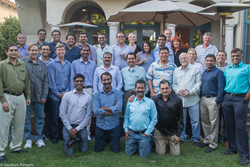 "We have survived and thrived despite the ups and downs facing businesses since 2000 and are proud of how many people recognized the value that DAZ brings to the marketplace, continuing to engage DAZ." Deborah Arnold, President
El Segundo, CA (PRWEB) July 13, 2015
DAZ Systems, Inc., is celebrating 20 years in business and successfully implementing Oracle Applications. A Platinum Oracle Partner with multiple Oracle Application practices, the DAZ team paused for a moment from the high paced daily life of consulting to appreciate the achievements and accomplishments during this time. With focus now on the Oracle ERP Cloud, DAZ takes a look back as to how they got here.
In an industry famous for career jumping, DAZ is thankful to have 35 people who have been with the organization for more than 10 years! "We have survived and thrived despite the ups and downs facing businesses since 2000, and are proud of how many people recognized the value that DAZ brings to the marketplace, continuing to engage DAZ. Our turnover rate for the past three years in the US and DAZ India has been less than 10%", says Deborah Arnold, President.
As DAZ continues to grow, one of its keys to success is continuing to change and evolve with the marketplace. As a leading implementation partner with Oracle's E-Business Suite, DAZ embraced Oracle's JD Edwards two years ago, and most recently, Oracle ERP Solutions. In less than one year, the Cloud ERP practice area has grown to over twenty percent of DAZ's revenue. With the additional releases of product offerings in ERP Cloud, the revenue mix will move closer to fifty percent on premise and fifty percent SaaS solutions for DAZ.
Over the years DAZ has had multiple growth opportunities. The first major opportunity was the dot.com boom which catapulted them onto the national scene with Oracle Applications. Starting in California, DAZ rapidly expanded to Texas, Chicago, and New York. Their customers are now in 39 states and locations all over the world. With the addition of the Oracle Cloud Applications for ERP, HCM, Sales and PaaS capabilities, there are no limits to what they can accomplish. DAZ expects that their movement into the Enterprise Marketplace last year, and with the additional ERP Cloud Modules, they will see their next major growth spurt in the next few months.
Since its inception in May of 1995, DAZ has grown organically, including the creation of a Hyderabad, India office that has more than 70 consultants. This extension of off-shore resources allows DAZ to provide around the clock support and services to its customers.
With many options for companies to choose from, only those whose customers acknowledge a job well done are going to be rewarded with success. DAZ's retention rate of customers in the past five years is over 80 percent. This has resulted in additional work from their existing customer base.
DAZ has implemented the Oracle Fusion Financials for their internal use. DAZ currently uses Oracle Cloud Financials and Expenses, with Project Billing/Costing/Accounting in process. By implementing Oracle Cloud Financials globally, DAZ Systems has gained the visibility and accurate reporting needed to manage a growing business. This has provided hands-on knowledge of what their customers will experience.
About DAZ Systems, Inc.
DAZ Systems, Inc. is an independent Platinum level member in the US Oracle PartnerNetwork. Having implemented exclusively Oracle enterprise-wide solutions, including the Oracle ERP Cloud, HCM Cloud, E-Business Suite, Business Intelligence, JD Edwards, EPM, VCP, Agile (PLM) and CRM Cloud for nearly 20 years, DAZ Systems, Inc. brings a new perspective and deep experience to implementing mission critical business systems and delivering the highest quality of consulting services. With a rich understanding of Oracle technologies, DAZ continues to deliver mission critical Oracle based solutions to Fortune 1000 and medium-sized enterprises across North America and the world. For more information, visit http://www.dazsi.com
Trademarks
Oracle and Java are registered trademarks of Oracle and/or its affiliates.