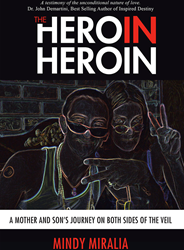 I'm confident that my son's journey will help to ease the pain of other families and navigating similar issue's and emotions.
CHARLOTTE (PRWEB) July 09, 2015
Whether drugs, alcohol or other guise, many families struggle with addiction. For Mindy Miralia, the demon was her son Micah's long battle with heroin.
Micah and Mindy had contemplated coauthoring a book about the highs and lows of Micah's 15-year addiction. Unfortunately, the two never got the chance to make this dream a reality. On March 29, 2011, her Micah took his own life while in relapse.
Driven by grief, healing, and a desire to help others while paying tribute to her son, Miralia penned "The Hero in Heroin," the story of the lessons she learned from her son's battle with drugs. It's Miralia's hope that her book will help other families struggling with addiction, illness or loss.
"The Hero in Heroin" is divided into three parts. Part one is the story of Micah: his upbringing, family life, successes and ultimately his perceived failures. Part two tells of Micah and Mindy's spiritual reunion after Micah has transitioned into the afterlife. Mindy shares vivid encounters and occurrences that remind her that Micah is still with her at times today. Part three contains excerpts from Micah's writings. Micah was a gifted writer who began documenting life events as early as age five.
"I'm confident that Micah's journey will help to ease the pain of other families and navigating similar issue's and emotions," Miralia said.
For more information, please visit mindymiralia.com
"The Hero in Heroin: A Mother and Son's Journey on Both Sides of the Veil "
By Mindy Miralia
Price: $18.99
ISBN: 978-1-5043-2637-1
Available at: Amazon, Balboa and Barnes and Noble online bookstores
About the Author
Miralia's personal life centered on understanding addiction and addictive illness, in particular seeking alternative healing modalities. She studied with indigenous peoples worldwide, became a practitioner of energy medicine and continues conscious evolutionary development in her vision to bring healing to a new level. She is a certified Spiritual Counselor and is also certified in numerous healing systems, including Reiki, ThetaHealing, and Reconnective Healing.
About Micah:
During his life, Micah worked in promotions at Creative Loafing He studied audio and visual productions at the Art Institute of Houston and attended Maine Medical Center School of Surgical Technology.
###