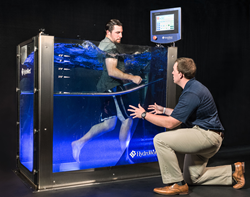 We developed the HydroWorx 300 to help bring aquatic therapy to more individuals in need.
MIddletown, PA (PRWEB) July 08, 2015
On June 24, 2015 at the National Athletic Trainers' Association's 66th Clinical Symposia & AT Expo in St. Louis, MO, HydroWorx, the world's leading manufacturer of aquatic therapy treadmills, unveiled its new product the HydroWorx 300 —an ultra-high-tech treadmill enclosed in a transparent tempered-glass case which fills with water in less than three minutes and consumes a miniscule footprint. This new product makes aquatic therapy and its restorative values available to virtually any sports medicine program, retirement community, fitness center or physical therapy clinic in the world.
"We developed the HydroWorx 300 to help bring aquatic therapy to more individuals in need," stated Anson Flake, HydroWorx CEO and Co-Founder. "For facilities with limited space or budget, the construction-free 300 will be a new tool for clinicians that looks just as great as it works."
The HydroWorx 300 features the same underwater treadmill and premium, directional jet system that has catapulted HydroWorx pools to the industry forefront for the last decade. Despite the small size, the underwater treadmill accelerates to speeds of up to 10 miles per hour. And its functional design allows it to fit through a standard 36" door.
"We believe this product has the potential to transform the market in several segments, including sports medicine, military, senior living, healthcare and fitness," continued Flake. "Offering a device that's easy on the budget and delivers the unweighting of joints through aquatic therapy to nearly everyone—chronic pain sufferers, post-op patients and our geriatric clients—is groundbreaking."
Attendees of the National Athletic Trainers' Association's 66th Clinical Symposia & AT Expo were encouraged to stop by to see this new technology in person for the first time. Hundreds of interested athletic trainers were able to witness this new product and a few even got in to try it out for themselves. Nichole DelHierro of Professional PT was among one of the attendees to get in and try the new unit and she "could see herself using it with all her athletes."
Furthermore, research specialist and PhD, Dr. Dennis Dolny was present for the launch and shared his thoughts on the new device. "The HydroWorx 300 really brings all the perfect features of an aquatic environment for rehabilitation, exercise training and sports performance into one unit. The design is classic and sleek! And it is a wonderful substitute for those stresses that most people experience with traditional land treadmill walking and running or other methods of trying to support bodyweight while performing exercises on land. It really is unparalleled, providing a safe and effective rehabilitation experience as well as high performance experience for your elite athletes."
Special options for the new product include an underwater camera for real-time gait evaluation, pediatric handrails and ramp platform for wheelchair access.
For more information about the new HydroWorx 300 please visit: http://ww2.hydroworx.com/300
About HydroWorx: HydroWorx specializes in designing, manufacturing, and marketing the world's finest water therapy and conditioning equipment for the sports, healthcare, and senior living markets. Among its extensive and elite client list are: Dr. James Andrews, renowned orthopedic surgeon; the Seattle Seahawks, the U.S. Navy Seals, NASA, the Kennedy Krieger Institute, Aston Villa FC, Cleveland Cavaliers the New York Rangers, and the NCAA men's basketball national champion Duke University.