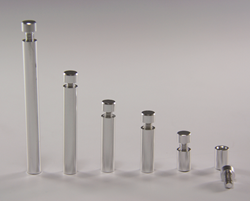 Stand Offs give maximum functionality and exceptional style
Chino, California (PRWEB) July 09, 2015
Plastic Products Mfg (PPM), industry leader in acrylic Sign Holders, Poster Holders, and a wide variety of POP Displays, is pleased to announce the release of a new line of aluminum Standoffs. Available in multiple sizes and lengths these new Standoffs deliver added value and a more complete package of options for new and established PPM customers alike.
Designed for both maximum functionality and exceptional style, new Plastic Products Mfg Standoff line succeed in both areas while performing their main function: joining dual-plated Name Plate Holders and Acrylic POP Displays like Poster and Sign Holders. The end result is a solid, reliable, durable unit that keeps promotional and print material securely in place and perfectly showcased.
Standoffs also make a nice complement to Glass Green Picture Frames, particularly in higher end applications. The combination of stylish Standoffs with Green Edge Photo Frames is geared to create an especially eye-catching display. With Style A2 Picture Frames, new aluminum Standoffs take on a supporting role in both countertop and wall mount designs.
Plastic Products Mfg's new posts are also in stock to match the beautiful curves of Style A4 Bowed Sign Frames. This clear plastic Sign Frame offers an almost hypnotic allure in its shape alone...something that's only accentuated further by Standoffs appealing to the highest design standards and taste in décor.
Plastic Products Mfg has built a reputation with effective POP Displays, Sign Holders, Name Plate Holders, Donation Boxes and Poster Holders. This new Standoff release is intended to show an even deeper commitment to customers and providing yet more tools for effective marketing. Knowledgeable Plastic Products Mfg Customer Service Representatives can help with ordering and questions. More information on our accessories are also available at http://www.plasticproductsmfg.com
Specializing in manufacturing and distributing Acrylic and Vinyl Display Products for more than three decades, Plastic Products Mfg has a strong reputation for top quality standards, outstanding delivery, and an exclusive "Customer Bill of Rights."
Plastic Products Mfg has manufacturing facilities in our California headquarters and production sources in Mexico and China. This allows us to offer our customers the best value and quality with thousands of in-stock products available for fast, hassle-free shipping anytime.