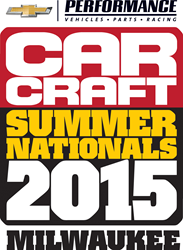 MILWAUKEE, WI (PRWEB) July 09, 2015
WHAT: The 2015 CAR CRAFT Summer Nationals, presented by Chevrolet Performance, is America's premier gathering of street machines and muscle cars. The event is an amazing value that features three days of entertainment for the whole family and the hardcore automobile enthusiast alike. Tens of thousands of enthusiasts and spectators are expected over the three days, featuring thousands of cars, professional judging and awards, and much more.
WHERE: Wisconsin State Fair Park | 640 S. 84th Street, West Allis, WI 53214.
WHEN:
Friday, July 17 | 10 a.m.–8 p.m.
Saturday, July 18 | 9 a.m.–6 p.m.
Sunday, July 19 | 9 a.m.–4 p.m.
FEATURED AT CAR CRAFT SUMMER NATIONALS:
The CAR CRAFT Summer Nationals is an annual celebration of horsepower, torque, and all things automotive amid the sights and sounds of thousands of high-horsepower vehicles on display. The CAR CRAFT Summer Nationals continues to be the leading, must-attend event for automotive enthusiasts nationwide. Spectator tickets include the following features:

Autocross , sponsored by QA1
Dyno Challenge, sponsored by West Bend Dyno Tuning – Test your torque and horsepower against the best!
Real Street Eliminator Pro Am Invitational
Midnight Drags at Great Lakes Dragaway
Miss CAR CRAFT Summer Nationals Contest, including:
Friday, July 17 – best auto / racing-inspired wear
Sunday, July 19 – Official Miss CAR CRAFT Summer Nationals Bikini Competition
CASH PRIZES and trophies will be awarded to each of the Top 3 winners!
Winner of the Bikini Competition also receives a tiara and sash.
A panel of local celebrity and VIP judges will score participants based on appearance, poise, Q&A, and audience response.
To register for the pageant, please send an email to carcraftsummernats(at)carcraft(dot)com with your name, phone number, current photos, and the subject line "Miss Car Craft Submission"
Undiscovered Builders Invitational
Lap the Milwaukee Mile
Performance Marketplace
Giveaways and activities from the main stage
CAR CRAFT editors and photographers on-site, generating more editorial content than ever while searching for rides worthy of "Editor's Choice" awards
Show-'N'-Shine competition – outstanding rides in 50 + classes, professionally judged and awarded
Meet HOT ROD's David Freiburger and Mike Finnegan of ROADKILL
Burnout competition
Representatives from the MILWAUKEE BUCKS will also be on site all three days for interactive games and opportunities to win a four-pack of tickets to a Milwaukee Bucks game next season! One winner will be announced daily.
FOR THE KIDS: Make 'n Take model building, sponsored by Revell
AMSOIL, official product
…and much more!
Tickets start at just $13!.
Spectator tickets start at just $13 and are available now at http://wistatefair.com/wsfp/events/2015-car-craft-summer-nationals/.
For the latest information and a full schedule of events, visit CARCRAFT.com, Facebook at FB.com/CarCraftMag , email carcraftsummernats@carcraft.com, or call 310-363-4231. For hotel info visit travelplanners.net or call 410-349-3000
About CAR CRAFT
CAR CRAFT, a brand of TEN: The Enthusiast Network, is devoted to street machines, wrenching, and drag racing. It was first established in 1953 to help car guys from the novice to expert build and maintain their American rear-wheel-drive cars. The motto of the brand is Loud, Fast, Real, which emphasizes its more budget-oriented approach to automobile building.
About TEN: The Enthusiast Network
TEN: The Enthusiast Network is the world's premier network of enthusiast brands, such as MOTOR TREND, AUTOMOBILE, HOT ROD, SURFER, TRANSWORLD SKATEBOARDING, and GRINDTV. With more than 50 publications, 60 websites, 50 events, 1,000 branded products, the world's largest automotive VOD channel, and the world's largest action/adventure sports media platform, TEN inspires enthusiasts to pursue their passions. For more information, visit enthusiastnetwork.com.
###