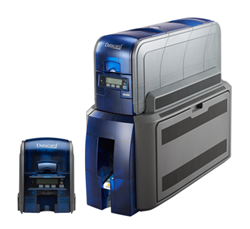 St. Louis Park, Minnesota (PRWEB) July 09, 2015
The Datacard ID card printer line-up has been expanded on IDWholesaler.com to include the entry-level SD160 single-sided printer and the advanced SD460 dual-sided printer. Joining the SD260 and SD360, the new printers provide dye-sublimation printing for vivid color images and thermal resin printing for crisp, black text and defined barcodes. The printers also offer a variety of encoding options that can be added at any time.
Datacard SD160 Single-Sided ID Card Printer
Designed to support low-volume and on-demand printing applications, the SD160 dye-sublimation printer is the economical choice for small- to medium-sized businesses. Combining distinctive, edge-to-edge printing with rewrite capabilities that allow cards to be used and re-used numerous times, the entry-level Datacard SD160 printer provides the security and simplicity to implement a cost-effective and highly versatile ID card program.
Producing high-quality photo ID credentials coupled with trusted long-term value, the SD160 can create up to 150 full-color or 500 monochrome single-sided cards an hour. The user-friendly interface is equipped with easy-to-change supply cartridges, a drop-in cleaning roller, automatic card feed, soft-touch control panel with LCD screen, and more, enabling virtually any user to easily print ID cards with little to no training.
Datacard SD460 Dual-Sided ID Card Printer
The innovative SD460 dual-sided printer with lamination delivers increased security, faster system output, and a fully-integrated solution for high-volume ID card printing requirements. It includes the option of single- or dual-sided card lamination for enhanced durability and longevity, as well as protection from forgery or tampering, making it more difficult for counterfeiters to duplicate.
In addition, the exclusive tactile impression feature of the Datacard SD460 heightens physical security by incorporating a unique tactile impression stamp onto the surface of cards after lamination is complete. There is also a built-in de-bowing module which flattens cards automatically, optimizing productivity and reducing waste.
The feature-rich SD460 printer produces outstanding 300dpi full-color or monochrome ID cards quickly and efficiently. It includes standard Ethernet and USB connectivity, allowing cards to be printed in multiple locations across a network. This high-performance printer uses eco-friendly supplies with biodegradable cores and recyclable materials for environmentally-responsible printing.
To learn more about the new Datacard SD Series printers and printer systems, visit IDWholesaler.com or speak directly with a knowledgeable ID Professional at (800) 321-4405.
About ID Wholesaler
ID Wholesaler is the industry leader of photo identification printers and equipment, printer systems, supplies, ID software, and badge accessories. As a trusted go-to ID resource and partner to over 97,000 customers, ID Wholesaler provides award-winning expert service, lifetime tech support, fast delivery, free shipping on $100+ orders, and guaranteed lowest prices on everything they sell. Offering the top name-brand ID card printers – like Fargo, Magicard, Evolis, Zebra, IDP, and more – along with a huge in-stock selection and an easy-to-use website, ID Wholesaler consistently delivers on the promise of making their customer's jobs easier. For more information, visit http://www.IDWholesaler.com.