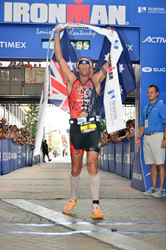 "It's important to have a good diet and a little bit of everything including the occasional filet mignon burger to get all of the nutrients that my body needs for fuel," McDonald said.
Omaha, NE (PRWEB) July 09, 2015
Omaha Steaks, the nation's leading purveyor of exceptional grain-fed beef and gourmet foods, announced today that it has entered into a new marketing relationship with 7x IRONMAN® Champion Chris McDonald and Team Big Sexy Racing of Austin, TX.
Big Sexy Racing is the highly successful age group triathlon team managed by professional triathlete and seven-time IRONMAN® champion Chris "Big Sexy" McDonald, an Australian native and father of three young children whose focus on nutrition has taken him to top levels in the sport. The race team, which is currently leading the 2015 IRONMAN® Division II global rankings, consists of 100 elite amateur triathletes competing around the world at every distance. Athletes apply each season for a spot on the team and are selected based on their commitment, sportsmanship and passion for the sport.
"We're incredibly excited to work with Omaha Steaks," said McDonald. "We share the same values. We're both committed to excellence – the quality of their products is legendary - and I admire Omaha Steaks commitment to creating the types of experiences that bring people together." Throughout 2015, McDonald and his BSR team members will develop food-related content for Omaha Steaks and team up on a variety of other marketing and promotional activities, including on-site presence at the IRONMAN® Boulder event on August 2, featuring a 2.4 mile swim, a 112-mile bike ride and a 26.2 mile run.
Todd Simon, Sr. Vice President and Family Owner of Omaha Steaks, said "Beef and other animal protein are an important part of many athletes' diets, which makes Omaha Steaks the perfect partner for Chris McDonald and the BSR team. We know they exceed expectations on and off the race course, and we're thrilled to support both their training and competitive efforts through this sponsorship." Simon added that the relationship strengthens Omaha Steaks efforts to educate the public about why beef is a key element of a healthy diet.
"I incorporate red meat into my diet throughout the week. It's important to have a good diet and a little bit of everything including the occasional filet mignon burger to get all of the nutrients that my body needs for fuel," McDonald added.
Omaha Steaks and BSR encourage the public to follow the conversation about the importance of protein on social networking sites, including Twitter and Facebook, through the hashtag #triprotein.
About Omaha Steaks
Omaha Steaks, founded in 1917, is an Omaha, NE-based, fifth-generation, family-owned company that markets and distributes a wide variety of the finest quality, USDA-approved, grain-fed beef and other gourmet foods, including seafood, pork, poultry, side dishes, appetizers, complete meals and desserts. Today, Omaha Steaks is recognized as the nation's largest direct response marketer of premium beef and gourmet foods, available to customers by calling 1-800-228-9055, online at http://www.OmahaSteaks.com or at 70-plus retail stores nationwide.
About Big Sexy Racing
In 2013, Chris and his wife, Erika, launched a racing team of brand ambassadors, Big Sexy Racing, comprised of 100 brand ambassadors from all over the U.S. In 2015, due to his love of the sport and his desire to give back to the sport that has given him so much, Chris launched the coaching company BSRX3, whose mission is to guide athletes to fulfill their goals – whether competing in a marathon, sprint, Olympic, or full distance triathlon.
###