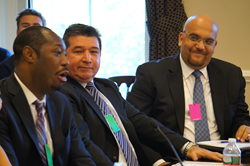 International trade agreements and government-to-government advocacy will raise awareness to the merits of American management standards, enabling us to increase our sales and create more high-skilled and low-skilled jobs. Emad Aziz, President & CEO.
Washington, D.C. (PRWEB) July 08, 2015
On June 24, 2015 the day the U.S. Senate passed trade Promotion Authority legislation, BRISK Business Inc. President and CEO, Emad E. Aziz and Vice President Nora Bahgat joined a panel of 40 business leaders who traveled to the White House from across the country to brief senior Administration officials on international trade policies.
The officials included U.S. Secretary of Commerce Penny Pritzker, U.S. Trade Representative Michael Froman, Director of the National Economic Council and Assistant to the President for Economic policy U.S. Department of Homeland Security Jeffrey Zients, Under Secretary for Economic Affairs U.S. Department of Commerce Mark Doms, Deputy Administrator Small Business Association Doug Kramer, Deputy Assistant Secretary for Domestic Operations, ITA, Antwaun Griffin, Deputy Assistant U.S Trade Representative Christina Sevilla. Following the briefing at the White House, the business leaders met with members of Congress at a reception on Capitol Hill.
The briefing covered multiple topics affecting trade and exports: The Trans-Pacific Partnership (TPP), The Transatlantic Trade And Investment Partnership (T-TIP) and the Passage of the Trade Promotion Authority (TPA). Participants had the opportunity to brief panelists and Administration officials on challenges encountered with international trade, as well as share their insights on means of increasing exports. Emphasis was made by participants on the value of Protection of intellectual property rights, harmonization of trade standards, regulatory compatibility, and the increase in cross border investment flows that the T-TIP and the TPP bring.
"Our company delivers portfolio, program, and project management services to governments, international financial institutions, and large businesses world wide, exporting American standards and expertise," said Emad E. Aziz, the President and CEO of BRISK Business Inc. in New York. "International trade agreements and government-to-government advocacy will raise awareness to the merits of American management standards, enabling us to increase our sales and create more high-skilled and low-skilled jobs."
BRISK Business Inc. has enjoyed the privilege of the valuable services offered by the U.S. Commercial Service, creating awareness for services, introducing potential partners, and providing advocacy, among many others. Aziz listed the following key drivers of exports in the professional services industry:
Facilitation of Trade Finance through EX-IM Bank
Sales of consulting and capacity building services are normally conducted through tendering processes. Many small businesses face challenges when it comes to the issuance of bid and/or performance bonds that are often required when submitting proposals. The role of the EX-IM Bank in facilitating such bonds for small businesses can boost exports by no less than 30%, since domestic banks are reluctant to offer such service when it internationally.
Another challenge encountered by small businesses is the ability to seek short-term working capital to fund international engagements, aligned with specifics of the engagement including but not limited to client payment terms. This is another area in which the EX-IM Bank can play a role, again raising the capability of small businesses to export services and create jobs. Reauthorization of EX-IM Bank is crucial to business exports given the above reasons.
Government-to-Government Advocacy
As governments, international financial institutions, international donors, and international organizations undertake programs and projects globally, advocacy comes to play a role in raising awareness of the benefits of adoption of American Standards, developed by the Project Management Institute (PMI®) and certified by the American National Standards Institute (ANSI). Such standards enable project stakeholders to deliver their projects with better control, within budget and schedule boundaries, while reducing the likelihood and impact of risk and providing assurance of alignment to strategy and benefits realization.
Local support
Aziz stated, "Provision of local support to U.S. businesses and their personnel working overseas in the field would result in a correlated increase in exports in the professional services industry." He emphasized that sometimes staff are reluctant to travel to certain areas or the company is unable to pursue contract infarctions in foreign territory, which reduce chances of success of foreign engagements.
Trade's contribution to the U.S. economy has grown consistently, and opportunities associated with trade continue to expand. This past year, U.S. exports supported a record 11.7 million jobs. More than 95 percent of the world's consumers live outside the United States, representing more than 80 percent of global GDP.
This event was part of a series of White House fly-ins to discuss international trade policy with business leaders. In addition to these meetings in Washington, Business Forward has also organized briefings in cities across the country to help business leaders brief senior Administration officials on international trade policy.
About BRISK Business Inc.
BRISK Business Inc. (BBI) is an international service provider specializing in Strategy Execution, Business Transformation, Change Management, and Portfolio, Program, and Project Management. We work with our clients to help them realize the benefits anticipated from their strategies through the provision of consultancy, advice, training and capacity building, as well as delivering the programs and projects on their behalf.
BRISK Business Inc. is a Registered Education Provider (REP) and a member of the Consultant Registry (RCP) with the Project Management Institute (PMI). For more information visit http://www.brisk-business.com.
About Business Forward
With the help of more than 50 of the world's most respected companies, Business Forward is making it easier for tens of thousands of business leaders from across America to advise Washington on how to create jobs and accelerate our economy. Business Forward is active in more than 100 cities and works with more than 450 senior Administration officials, Members of Congress, governors, and mayors.
To date, the organization has also brought more than 3,000 business leaders to the White House to brief the President's economic advisors. Business leaders who have participated in these briefings have seen their suggestions implemented in the Affordable Care Act, the Jobs Act, three trade agreements, and every one of the President's budgets. Many have also shared their recommendations with their representatives in Congress and through op-eds and interviews with local media. Ninety-eight out of 100 business leaders who have participated in a Business Forward briefing would be interested in participating in another one. For more information please visit http://www.BusinessFWD.org