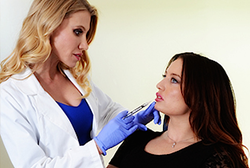 Laser skin rejuvenation and wrinkle reduction treatments are more effective when the right treatments are combined.
Marin County, CA (PRWEB) July 08, 2015
Dr. Karron Power and the team of clinicians at Power MD are employing a comprehensive anti-aging program designed to address the signs of facial aging. Dr. Power says the aesthetic procedures pioneered at PowerMD utilyze a dual "treat and prevent" approach. "While my clinicians and I treat existing skin issues for our clients we also assess where the signs of aging are likely to occur next and incorporate strategic treatments and placement of topical and injectable products to prevent the next set of lines from ever happening."
"Taking a holistic approach to anti-aging and beauty brings long-term benefits to our clients," says Dr. Power. "The most impressive and long-lasting results are seen in our clients who have also had their hormone and nutrition levels optimized.," says Dr. Power. "These hormones and special nutrients increase collagen production, amplifying and extending the smoothing, plumping, tightening, and brightening effects of dermal fillers, fractional and IPL laser treatments and peels. The combined aesthetic treatments, hormone and nutritional programs designed at PowerMD result in a long-lasting, healthy glow that comes from the inside and shows on the outside. Bringing these treatments together enhances their benefits."
"Laser skin tightening, wrinkle reduction and laser skin resurfacing are more effective when the right treatments are combined," says Dr. Power. "Since each person's skin is unique, we don't limit our practice to just one type of treatment or laser. Each client receives a customized treatment program that may include skin resurfacing, skin tightening and treatment for dark spots, acne scars or wrinkles using a combination of lasers, injectables and topical treatments."
For more information on Dr. Karron Power and PowerMD or to arrange a consultation call 415.785.7995 and visit http://www.PowerMD.com
PowerMD is THE destination clinic providing the most effective anti-aging, aesthetic, wellness, and weight loss solutions under one roof. It is the first and only clinic of its kind in the Bay Area offering a full array of laser treatments, facial fillers, Botox, medical peels, medical weight loss, hormone and testosterone replacement, medical supplements, skin and hair care, and IV nutritional boosts in one location. Bringing these treatments together enhances their efficiency and effectiveness for faster, better, and longer-lasting results.