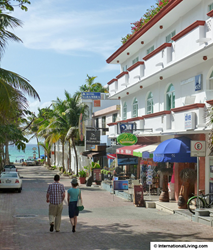 "You'll enjoy some of Mexico's finest quality of living for a fraction of what you'd pay in the U.S. or Canada," Holland says.
Baltimore, MD (PRWEB) July 08, 2015
"On Mexico's Riviera Maya, there's something for every type of person and lifestyle," says InternationalLiving.com editor Jason Holland.
The Riviera Maya, which runs from Cancún to Tulúm on the Yucatán Peninsula's east coast, boasts dramatic scenery of white-sand beaches, blue Caribbean waters, and thick jungle. There's deep local reverence for Maya culture and history. The weather is warm here year-round. And the cost of living, while modest, offers great bang for your buck.
"You'll enjoy some of Mexico's finest quality of living for a fraction of what you'd pay in the U.S. or Canada," Holland says.
"All told, a couple can comfortably call this paradise home for around $2,500 to $3,000 a month."
Simple meals in local restaurants cost $5 or less. In stores, prices are similar to those in the U.S. for imported foods, but fresh produce is a bargain. Rent on a two-bedroom condo close to the beach can run less than $700 a month. And expats enjoy big savings on property taxes and healthcare, too, when compared to what they cost in the States.
Government investment in tourism along this coast began in Cancún in the 1970s and continued—working its way south—over the last 30 years. The resulting regional prosperity is reflected in the strong infrastructure—roads and medical services are top-notch. The feel on the Riviera Maya is First World, with a vibrant, distinctly Mexican culture.
"All this translates to a comfortable and pleasant place to live for expats—and an easy transition, too," Holland reports.
Scottie and Jim Watson have lived in the town of Playa del Carmen for six years and watched it boom over that time. Roads have been paved, restaurants and shops have opened, property values have risen—but the town's guiding spirit of "fun in the sun" remains strong.
"All of our friends are very active. We walk the beach, swim in the ocean, swim laps in the pool. We have a catamaran, too," says Jim. "Everyone is well-dosed with vitamin D."
"We indulge ourselves. We have a cleaning lady, which I wouldn't have in the States. And foods that are good for you, like fruits and vegetables, are cheap," Scottie says.
Despite the town's popularity, real estate deals can still be found. The farther from the beach you go—but still a reasonable walk or quick bike ride—the better the deals are. Recently a two-bedroom condo next to the beach listed for $199,000. Several blocks inland from the water, a two-bedroom unit listed for $109,000.
Down the coast from Playa is the bohemian town of Tulúm, where white-sand beaches and turquoise waters are complemented by low-scale development.
"Tulúm used to be a favorite stop on the hippie backpacker trail. But these days it's the province of more well-heeled and fashionably-dressed visitors," Holland says.
The old town center, inland, is where business is done: grocery shopping (there are several large, well-stocked supermarkets), hardware stores, gas stations, and more. There are also cafés and restaurants.
"Most people live around town or north of it," Holland says. "But the beach side—about two miles from 'downtown'—is where they play."
Real estate prices are reasonable here, too. In Tulúm itself, a two-bedroom town home a few blocks from downtown recently listed for $97,000. In the same area, a three-bedroom house listed for $192,000.
"About 20 minutes south of Cancún, Puerto Morelos is a town that's as close to traditional Mexico as you'll find on this coast," Holland reports.
This quiet fishing village is home to a core group of permanent expats and is a part-time haven for many snowbirds. There are some resorts and hotels—but a fraction of what you have just up the road. It has a small-town feel.
Canadians Sharon and Les Webb have lived in Puerto Morelos for five years and rent a two-bedroom home one street off the beach for $570 a month. "We can live here on much less than in Canada. If you have a pension or Social Security, you could live well. People are friendly and there are good people in this town. You can't help but wake up with a smile in this sunshine," Sharon says.
The full report on the best beach towns for all budgets on Mexico's Riviera Maya, can be read here: The Best Beach Towns on Mexico's Riviera Maya.
Members of the media have full permission to reproduce the article linked above once credit is given to InternationalLiving.com. Photos are also available.
Media Contact: For information about InternationalLiving.com content republishing, available source material or to book an interview for radio, TV or print with one of our experts, contact Associate Editor Carol Barron, 772-678-0287 (US), CBarron(at)InternationalLiving.com or visit the Media Center. For automatic updates on the most current stories, follow International Living Media on Twitter.
For 35 years, InternationalLiving.com has been the leading authority for anyone looking for global retirement or relocation opportunities. Through its monthly magazine and related e-letters, extensive website, podcasts, online bookstore, and events held around the world, InternationalLiving.com provides information and services to help its readers live better, travel farther, have more fun, save more money, and find better business opportunities when they expand their world beyond their own shores. InternationalLiving.com has more than 200 correspondents traveling the globe, investigating the best opportunities for travel, retirement, real estate, and investment.
###