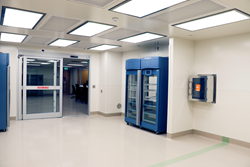 Greeley, Colorado (PRWEB) July 09, 2015
Banner Health North Colorado Medical Center Pharmacy Relocation project located in Greeley, CO was completed and ready for move-in on June 8. The pharmacy, designed by HKS Architects, Inc., was renovated from an existing lab in the North Colorado Medical Center. This project was a 10,400-sf renovation, which included a new pharmacy carousel, located above 12 active operating room units. A&P's primary focus is to minimize impacts to patient and staff; this was achieved through open communication, noise mitigation and infection control. The pharmacy relocation is one of the critical infrastructure projects vital to the long-term sustainability of the NCMC facility.
A&P has been an integral partner with the Banner Health System for the past several years. At the North Colorado Medical Center, Banner's Flagship in Colorado, A&P has done many renovations including mechanical and cosmetic upgrades and the pharmacy renovation and relocation.
About A&P
A&P is one of the top 50 construction companies in the U.S., providing construction management, design-build and general contracting services to public and private clients. A&P serves the municipal, K-12 school, higher education, energy, healthcare, multi-family, retail and senior living market segments from its offices in Arizona, Colorado, Minnesota, North Carolina, Texas and Washington. For more information, please visit http://www.a-p.com or follow them on twitter and facebook.