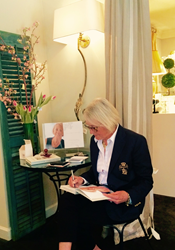 "I am thrilled to embark on this tour to support and further connect with the design community and Peacock Alley customers across the country. I always love the chance to share my stories and talk about Peacock Alley's beautiful textiles..."
Dallas, TX (PRWEB) July 08, 2015
Mary Ella Gabler, founder of Peacock Alley luxury linens, has been a well-known presence in the design industry for more than 40 years. As a result of her favored reputation and huge following in the industry, she has been asked to present at three celebrated design events in July.

On July 14, from 2 to 4 p.m., prominent design boutique Peridot West will host Mary Ella for a presentation about her career in the linen industry followed by a brief question and answer session. She will also sign copies of her memoir, Uncommon Thread, A Woman, A Brand, A Legacy. Peridot West is located at 1183 Howell Mill Rd NW in Atlanta.
On July 15 from 9 a.m. to 4 p.m., Mary Ella will participate in ADAC in Bloom's Women of Style Event, presented by Flower magazine. Peacock Alley is the sponsor of the Keynote Presentation by Charlotte Moss, who Mary Ella will introduce at 3 p.m. The Atlanta Decorative Art Center (ADAC) is the preeminent design center of the southeast for residential and contract furnishings located in Buckhead at 351 Peachtree Hills Avenue NE in Atlanta.
On July 24 and 25, Mary Ella will meet and greet customers at The Picket Fence in Ketchum, Idaho, during a two-day trunk show featuring 20 percent off Peacock Alley products. She will also give a presentation on July 24 at 2 p.m. followed by a book signing of Uncommon Thread. The Picket Fence provides high-end linens, home décor and design services and is located at 560 East Avenue North in the hidden gem of Sun Valley, Idaho.
"I am thrilled to embark on this tour to support and further connect with the design community and Peacock Alley customers across the country," Gabler said. "I always love the chance to share my stories and talk about Peacock Alley's beautiful textiles – which are sewn with love and care."
ABOUT PEACOCK ALLEY
Dallas-based Peacock Alley, family owned and operated for more than 40 years, designs and manufactures bed and bath linens that combine a subtle touch of indulgence with trendsetting styles, always mindful of comfort and versatility. To learn more about Peacock Alley, please visit peacockalley.com, follow our news on Twitter @peacockalleyusa or like us on Facebook at Facebook.com/PeacockAlley