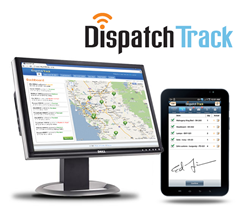 DispatchTrack has been a game changer! - Tony Mitchell, American Furniture Warehouse
San Jose, California (PRWEB) July 13, 2015
DispatchTrack, creator of the award-winning delivery logistics management software of the same name, announced today that Larry Cuddy has joined as Vice President, Client Relations, reporting to CEO, Satish Natarajan. Prior to DispatchTrack, Mr. Cuddy was the Vice President of Commercial Strategy and Client Relations at RoadOne Intermodal Logistics. Mr. Cuddy, a 22-year veteran of the supply chain/logistics and technology industries, will be responsible for expanding the reach of DispatchTrack by building client solutions and strategic partnerships. DispatchTrack is excited that this appointment will accelerate DispatchTrack's planned market growth.
Satish Natarajan, CEO of DispatchTrack, said, "Larry has a rich industry knowledge and experience and will be instrumental in DispatchTrack's growth. We believe we offer a unique, high-value solution that can be broadly applied across service industries, last-mile deliveries and logistics companies. Our technology is the simple, affordable answer for managing delivery operations and services."
"I'm thrilled to join Dispatch Track at this point in the company's growth trajectory. As a leading provider to the furniture and appliance industries, they're prepared to take their winning solutions to new markets with similar field management needs," said Larry Cuddy.
DispatchTrack provides dynamic routing and field service management software which optimizes delivery routes and provides real-time visibility for all delivery logistics organizations. DispatchTrack provides its solution to furniture delivery, appliance delivery, last-mile logistics and over-the-road (OTR) delivery logistics organizations.
DispatchTrack software enables furniture and appliance delivery organizations to manage their field operations effectively. The software consists of a web application that is used to schedule and monitor the jobs, and the field personnel use a mobile device to capture job completion details. The mobile and the web applications communicate in real-time, thus providing real-time 360-degree visibility.
DispatchTrack runs on both Android and iphone/ipad devices. Key features include GPS tracking, automated optimized routing and time window calculations. It also can capture job pictures, job notes and proof of delivery customer signatures in real time, and has a delivery status tracking widget. DispatchTrack also provides automated calling to confirm service schedules with customers. By using Open API based on EDI, XML and CSV data exchange mechanisms, DispatchTrack offers seamless integration with existing sales order systems.
DispatchTrack ROI Calculator: http://www.dispatchtrack.com/roi.html
DispatchTrack's website gives a ROI Calculator tool where customers can plugin their own business metrics to see what return on investment is possible for their organization through this software.