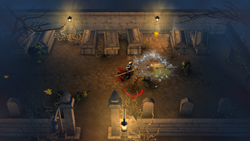 This is a rich game reminiscent of the great Diablo series - in the palm of your hand. The power feels awesome!
Oakland, CA (PRWEB) July 08, 2015
Making Fun, Inc. ("Making Fun"), an independent game developer and publisher run by game industry veterans, today announced the first major expansion to its popular mobile RPG, Mage and Minions. Over the past year, players have rated Mage and Minions as one of the best games on the Apple, Google and Amazon mobile app stores. The new expansion, called "Act III: Pyramids of the Gods," offers Mage and Minions fans many new game levels, a richer storyline, over 200 character voice recordings, an overhauled statistics system, and a higher level cap -- to wage war with even deadlier efficiency.
Mage and Minions immerses players in a visually stunning fantasy world with science fiction undertones where players tap to explore or attack, and draw symbols to trigger devastating spells and abilities. Viscerally satisfying touch mechanics established Mage and Minions as the first action RPG truly designed for mobile devices. John Welch, CEO of Making Fun, is excited to share Pyramids of the Gods with fans and new players alike: "This is a rich game reminiscent of the great Diablo series - in the palm of your hand. Battle, collect loot, and craft items to grow in might. Draw a rune over a hoard of particularly nasty enemies to unleash your fury. Watch them burn, freeze, or get slashed apart. The power feels awesome!"
Players' hero characters now shout battle cries as they unleash devastating new powers like Singularity on hapless foes. "This expansion is all about action, with new abilities designed to further enhance the player's feeling of power and mastery," explains Adrian Zaharia of Snowglobe Games, Making Fun's development partner. "Encounters are won by split second decisions and clever use of your skills. For example, triggering the new mage ability Death from Above makes you rise above the battlefield and bombard an area with a hail of fireballs. Use it to obliterate a pack of monsters, but time it well to also evade a powerful attack! That decision can make the difference between losing or winning an encounter."
In this third Act of the story, players hack and slash through the treacherous jungles, pyramids, and deserts of Nirgal, the rusty planet in Elderath's sky, inhabited by a species of blood-thirsty reptilian aliens, the Aztrak. Players must develop fantastical powers, hone their combat skills, and collect loot, armor, and weapons to fight real-time battles against hordes of skeletons, robots, beasts, demons, aliens, and dragons - to halt the evil Lord Ragadam's apocalyptic plan.
"The universe of Elderath comes into its own," explains Serban Serafimescu of Snowglobe Games. "The stories of the Demon Magroth, the Broken Dragon, Gorgona, Elban the Demiurge, the Lifecrafting of Levania, the Aztrak, the fall of the cities of Nirgal, and the overarching plan of Ragadam are meshing together - answering many of the players' questions, and opening other mysteries for the future."
Mage and Minions is one of the top-rated games on all of the U.S. mobile app stores. It is available to download for free worldwide on Google Play, the Apple App Store, and Amazon's Appstore. For more information please visit http://www.MageandMinions.com.
About Making Fun
Making Fun, Inc., is an independent game developer and publisher headquartered in the San Francisco Bay area with a talented team also in Buenos Aires, Argentina. Our staff of industry veterans works closely with partner game studios around the world to create innovative social games for tablets, smartphones, PC/Mac, and browser platforms. Our top titles include Mage and Minions, Dominion Online, BloodRealm, Hidden Express, and a forthcoming hidden object adventure game, Three for Truth. We love to create games that entertain millions of players worldwide, and we are committed to providing strong ongoing support to our player communities. We invite you to visit http://www.MakingFun.com.
About Snowglobe Games
Snowglobe Games is a game and software development service provider headquartered in Dublin, Ireland with a development office in Bucharest, Romania. Since its foundation in 2010, Snowglobe has developed a number of freemium titles for mobile and Facebook in the RPG, casino and simulation genres. The company has also implemented a mobile, social platform for casino games, including scalable multi-player server and analytics system.
Contact:
Gerry Pugliese, Marketing & PR
Making Fun, Inc.
gerry(at)makingfun(dot)com