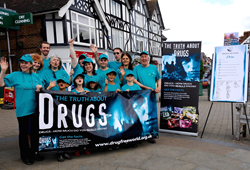 It is our view that effective drug education and prevention is the key to achieving the United Nations goal of an international society free of drug abuse
Los Angeles, CA (PRWEB) July 07, 2015
On Saturday, June 27, to mark the United Nations International Day against Drug Abuse and Illicit Trafficking, volunteers from the Church of Scientology brought their drug education initiative to Crowborough to raise awareness of the major problem illicit drugs cause in society.
Colin Dyer, event coordinator, explained why he chose Crowborough as the location for the event. "I live in Crowborough," he said, "and upon recently speaking with the local police, I discovered that there was in fact more of a drug problem in the town than I had realized. So I decided to hold our drug awareness event right here with the help of 17 other dedicated volunteers."
The volunteers (10 adults and eight children) educated Crowborough residents about the dangers of drugs. They distributed 1,500 hard-hitting and factual The Truth About Drugs booklets, published by the Foundation for a Drug-Free World, handing them out to passers-by, placing them in household letterboxes and giving sets of them to shop owners to make available to their customers.
They also set up a stall on the High Street, where local residents signed their pledge to live a drug-free life and help others do the same.
The event was met with support and encouragement from local residents: a teenager who managed to get himself off drugs wants to help 30 of his friends do so too. Another resolved to cease taking a drug he knows is ruining his life.
"We support the UN Office on Drugs and Crime campaign," says Dyer. "It is our view that effective drug education and prevention is the key to achieving the United Nations goal of an international society free of drug abuse."
Encouraged by the response to their work, the volunteers plan to continue distributing The Truth About Drugs booklets until they have reached households throughout Crowborough and surrounding areas.
Sponsored by the Church of Scientology, the Foundation for a Drug-Free World is a charity established in the United States, and operating worldwide, that empowers youth and adults with factual information about drugs so they can make informed decisions and lead drug-free lives.
Scientologists on five continents work in their communities throughout the year to empower others with the truth about drugs. The Church and its members are dedicated to eradicating drug abuse through education.
The Church of Scientology supports The Truth About Drugs initiative, one of the world's largest nongovernmental drug education and prevention campaigns. Learn more here: http://www.scientology.org/how-we-help/truth-about-drugs.html