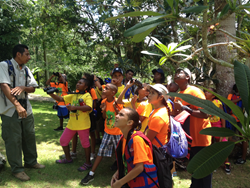 By inspiring even one child to work towards environmental sustainability, we hope to create a ripple effect that will resonate throughout Belize's future generations
San Ignacio, Belize (PRWEB) July 10, 2015
Community and corporate support for the Lodge at Chaa Creek's annual Eco-Kids environmental education camp shows the degree to which environmental awareness and sustainability have become part of the national fabric of Belize, according to the popular Belizean eco-resort's owners.
Mick and Lucy Fleming, who created and sponsor the annual weeklong learning adventure for twenty-four young Belizeans, added that this year's high number of applicants from schools throughout Belize is a positive sign that "Belizeans are passionate about preserving their stunning natural treasures."
"The idea of giving some of tomorrow's leaders and environmentalists their start at a weeklong educational camp in a pristine jungle environment has obviously resonated beyond Chaa Creek and the schools," Lucy Fleming said, "the support we're receiving seems to echo our belief that if we can inspire even one child to devote his or herself to environmental sustainability, we've received a great return on our investment."
Officially known as the "Eco-Kids Scholarship Environmental and Cultural Exchange Camp", the annual event, to be held this year between July 19 to July 26, gives twenty-four young Belizeans between the ages of eight and thirteen a chance to learn about their natural world through a mix of adventure, social interaction, fun, and hands-on education aimed at instilling a sense of wonder and responsibility for the environment, according to the Flemings.
"We started the Eco-Kids Camp back in 2001 with the idea that young people who become passionate about their natural world and understand the need to protect it are our best hope for the future," Ms Fleming said during the recent announcement of this year's Eco Kids winners.
"We watched the effect that growing up amidst such natural beauty had on our own children, and wanted to extend that experience – and hopefully an appreciation and a desire to protect our natural resources – to students around Belize. It's based on the belief that investing in our young people is the best way to prepare Belize, the region and indeed the world for the many environmental challenges that lay ahead," she said.
Ms Fleming added that the participation of local sponsors, such as Belize Natural Energy, who made a significant contribution this year, combined with the cooperation of schools throughout Belize has been gratifying.
"It really augers well for the future when you receive support throughout Belize for programs like the Eco-Kids," she said.
This year, twenty-four young Belizeans between the ages of 8 and 13 were selected to attend the Eco Kids Camp after each submitted a 300 word written essay that was reviewed by the Chaa Creek scholarship committee. Shortlisted applications were then entered into a draw, with the winners going on to attend this year's summer camp from July 19 to 26, 2015.
During the week, Chaa Creek provides lodging in their Macal River Camp' s bungalow style accommodation, three healthy meals and snacks each day, structured educational activities, arts and craft materials, tee shirts, 24 hour camp counsellor supervision, and guided tours conducted by licensed naturalist guides.
Activities include hikes to ancient Maya archaeological sites, horseback rides along the network of jungle trails running throughout the 365 acre private nature reserve to study the flora and fauna and Maya medicinal plants, song writing sessions and talent shows, hands-on learning about sustainable organic farming techniques, supervised water activities and more.
"We worked with teachers, guides and our staff to craft a well-rounded experience that we like to think will instil a commitment towards environmental stewardship and social responsibility in some of tomorrow's leaders ," Ms Fleming, a former teacher said.
"By inspiring even one child to work towards environmental sustainability, we hope to create a ripple effect that will resonate throughout Belize's future generations. That would be a great return on our investment," she added.
Ms Fleming said further information about the Eco Kids Summer Camp can be found on the Chaa Creek website and Belize Travel Blog.
The Lodge at Chaa Creek is a multi award winning eco resort set within a 365-acre private nature reserve along the banks of the Macal River in Belize.
ENDS