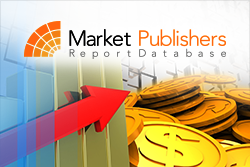 London, UK (PRWEB) July 08, 2015
Market Publishers Ltd and Grand View Research signed a partnership agreement for quality market research promotion on the Internet. MarketPublishers.com is now authorized to distribute and sell Grand View Research reports.
"Grand View Research is a US-based company, specializing in providing syndicated and custom research reports, consulting and market monitoring services, among others. Its professional consultants and analysts draw up market research studies that contain strategic objective insights across a scope of industries comprising chemicals, technology, materials, and energy. Updated on a regular basis, the company's market research reports guarantee that clients get the latest, most relevant, and vital information. We are excited that Grand View Research has become our new partner and are upbeat about the future potential of our business relations in the following," said Natalie Aster, Assistant Manager at Partners Department.
In-demand market research studies by Grand View Research:
Physical Security Market Analysis By Component (Hardware, Software, Services), By Application (Transportation, Government, Corporate, Hospitality, Energy, Retail, Industrial, Control Centers, Chemical Facilities) And Segment Forecasts To 2020. The worldwide physical security market will likely be worth USD 110.09 billion by end-2020. The increase in budget allocation for physical security due to rising security concerns is set to stimulate the growth of the physical security market. The market dynamics is expected to be influenced by the surging migration toward cloud-based security systems and convergence in applications. Unlimited storage devices, smart devices, next-gen analytics, and ubiquitous sensors are some of the emerging technologies in the physical security market. North America held more than 30% of the world physical security market share as of 2013; whilst APAC is expected to demonstrate robust growth over the projected period, which is attributed to a shift toward security integration in the developing world, favorable government incentives and buoyant verticals creating demand for physical security. More valuable information and data on the market can be found in the study.
Compressed Air Treatment Equipment Market Analysis By Product (Filters, Dryers, Aftercoolers), By Application (Plant Air, Instrument Air, Process Air, Breathing Air) And Segment Forecasts To 2020. The world market for compressed air treatment equipment is forecast to reach a value of USD 8.59 billion by 2020, driven by rising demand for such equipment across a broad range of applications. A set of regulatory mandates and standards to support clean air production and utilization are expected to greatly stimulate the growth in the industry. However, delivering compressed air to production facilities demands expensive equipment, requires frequent maintenance and consumes a lot of energy, and these factors could challenge the market growth during the forecasted period. Atlas Copco Corp., Donaldson Company Inc., Ingersoll-Rand, Gardner Denver Inc., Kaeser Compressors, Van Air Inc. and Parker Hannifin Manufacturing Limited are some of the dominant players in the market. The report analyzes the compressed air treatment equipment market, segmenting it based on product, application and region; covers the market size and growth prospects; offers regional market analyses; examines the competitive landscape.
Biometrics Technology Market Analysis By Application (Face, Hand geometry, Voice, Signature, Iris, AFIS, Non-AFIS), By End-Use (Government, Defense & Security, Banking & Finance, Consumer Electronics, Healthcare, Residential, Commercial, Transportation) And Segment Forecasts To 2020. The value of the world biometrics technology market is expected to reach nearly USD 24.6 billion by 2020, with the growth driven by the rising demand for biometrics technology across different applications, and also surging demand from the consumer electronics sector to improve customer experience, among others. However, high levels of initial investments will likely restrain the market growth in the next 6 years. Transportation and logistics was the dominant end user segment as of 2013, accounting for more than 25% of the biometrics technology market in the same year. North America was the largest regional market in 2013, and it is projected to grow at a high rate in the offing. The report provides a detailed and unbiased analysis of the global biometrics technology market, covering its key parameters, dynamics, competitive scene, forecasts.
More details on the publisher and its reports can be found at Grand View Research page.