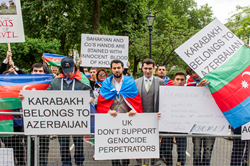 'Sahakyan – War Criminal!'
London, UK (PRWEB UK) 8 July 2015
The visit on 8 July to leading London think-tank The Royal Institute of International Affairs by the controversial Bako Sahakyan (head of the Armenian occupying regime in Nagorno-Karabakh) has resulted in a noisy protest in Central London by Azerbaijani students and professionals, standing alongside supporters of international law from the UK, Turkey and other countries. According to The European Azerbaijan Society (TEAS), the protest attracted coverage from the Azerbaijani and UK media.
Prior to and during his participation in a discussion on 'Nagorno-Karabakh: Domestic Developments and Regional Challenges', protesters chanted slogans outside Chatham House, including 'Sahakyan – Karabakh is Azerbaijan' and 'We want justice – when do we want it? Now!' As he left the building they shouted: 'Sahakyan – War Criminal!' thereby making their thoughts known about a man whose policies continue to stop around 875,000 Azerbaijanis internally displaced persons (IDPs) and refugees from returning to their rightful homes (see website of the Azerbaijani State Committee for Refugees and Internally Displaced Persons at http://www.refugees-idps-committee.gov.az/en/ ).
A digivan, exhibiting emotionally-charged photos of Azerbaijani IDPs taken by leading photojournalist Ed Kashi in displacement camps, demonstrated the ongoing human impact of Armenian policy in the region. It remained outside Chatham House for the duration of the debate before touring Central London.
Formerly a Deputy Commander during the Armenian–Azerbaijani conflict over Nagorno-Karabakh and head of the Security Services in the occupied territories from 2001–07, Sahakyan's intransigence has played a major role in halting progression in the peace talks between the sides. According to Sahakyan's official website (http://www.president.nkr.am/en/president/), he has been head of the occupying regime since 2007, and has repeatedly pledged to seek recognition of the full independence for Nagorno-Karabakh.
The ongoing occupation of Nagorno-Karabakh and the seven surrounding districts continues in defiance of four outstanding UN Security Council resolutions demanding the withdrawal of Armenian forces. The Parliamentary Assembly of the Council of Europe (PACE), the Organisation of Islamic Co-operation (OIC), and the European Parliament, amongst other bodies, has also condemned the occupation. The OSCE Minsk Group – chaired by the US, France and Russia – has unsuccessfully sought to establish a negotiated peace for over 20 years.