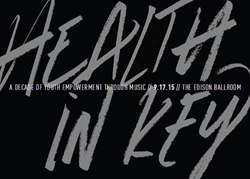 New York, NY (PRWEB) July 15, 2015
Hip Hop Public Health (HHPH) announces their first annual "Health in Key Gala". The gala will be held on September 17th in New York at the Edison Ballroom. The event is hosted by Doug E. Fresh and will honor Easy AD, Ashanti, Russell Simmons, Jordin Sparks, Chuck D, DMC and the HHPH 5th Grade Student Advisory Board. Notable guests include Hip Hop Legends, Cold Crush Brothers, Larry Soler, CEO of the Alliance for Partnership for a Healthier Generation, Howell Wechler, CEO of the Alliance for a Healthier Generation, Jim Whitehead, CEO of the American College of Sports Medicine and Sam Kass, Former White House Chef and Executive Director of Let's Move! Initiative.
"A child's attention has become a precious commodity with fierce competition for their food and lifestyle choices. We believe HHPH plays a unique role in the obesity space of economically disadvantaged communities by focusing on providing evidence driven media that engages, entertains, educates, and improves health behaviors of urban children through a musical pop culture health literacy platform featuring several notable artists," said Dr. Olajide Williams, Founder and President, of HHPH. "Our first annual gala will help us raise funds to support our on-the- ground activities and programs to end health illiteracy and improve the health of economically disadvantaged children".
"In Harlem, where I'm from, and in many other inner city neighborhoods where healthy food is harder to find, where unhealthy eating habits have been passed down through the generations, and where the importance of exercise is often undervalued, a organization like Hip Hop Public Health is literally a life-saver." said Doug E. Fresh, HHPH Founding Artist, "It's been an honor to have been an active board member since its inception and to continue to use my voice and my music to encourage kids to lead their parents in cultivating healthier lifestyles. I'm excited to host our first annual gala to help raise money to equip Hip Hop Public Health with much-needed resources to educate and serve our communities. I definitely know how to party, and on September 17, we will be partying with the purpose of making HHPH even more effective."
The Health in Key Gala will be held September 17th with a reception at 7:00 pm followed by dinner and program starting at 8:00 pm. Individual tickets are priced at $500 with a limited amount of friends and family tickets priced at $250. Tables are available at varying levels. For sponsorship opportunities or additional information please, visit Hip Hop Health's new launched website http://www.HHPH.org.
About Hip Hop Public Healthcare:
Hip Hop Public Health uses music as the message and popular artists as messengers to reach economically disadvantaged elementary school aged children with an innovative array of media tools designed to improve health literacy and foster positive behaviors. We not only effectively engage children in this process; we also empower them to influence parental knowledge and parental health behaviors through "pester power", "purchase influence" and other child mediation techniques. We have worked with A-list talent including Ariana Grande, Jordin Sparks, and Ashanti. Doug E. Fresh is our founding artist and Chuck D and DMC are on our advisory board. Seven-time Emmy winner for children's television Ian Ellis James, a director of our organization, has developed several of our storyboards. For more on Hip Hop Public Health visit http://www.HHPH.org.
###