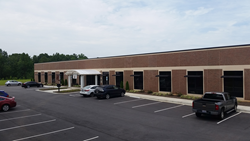 Raleigh, N.C. (PRWEB) July 08, 2015
Ateb, Inc., the industry's leading provider of pharmacy based patient care solutions, built its new North American headquarters in Raleigh, retaining almost 150 jobs in the capital city, and thereby re-affirming its commitment to the community.
Ateb recently constructed a 37,500 square foot office building, located at 11125 Forest Pines Drive, which created more employment opportunities within the local community and generated an additional 25 percent growth in the company's overall head count. This expansion is also a result of the company's $3 million infrastructure investment to strengthen its intuitive technology solutions. Later this year, the company plans to almost double its existing footprint, to approximately 65,000 square feet.
Frank Sheppard, President and CEO of Ateb, is one of the founders and has been with the company since its inception in 1992. During his tenure, Sheppard has helped grow the healthcare technology company, including 20 percent year over year growth for the past three years.
Ateb's innovative patient engagement solutions enable pharmacists to provide a higher standard of affordable patient care. Pharmacists are ideally positioned to ensure patients take their prescribed medications and understand their importance to better health. This improved communication helps reduce preventable hospital readmissions, reinforces positive patient behaviors and drives sustained patient medication adherence.
"Ateb's intuitive platform enables our pharmacy partners to transform to an appointment based model to improve patient medication adherence and the overall quality of patient care to benefit patients, pharmacies, and ultimately, the payers," said Sheppard. "We strongly believe that reducing healthcare costs through improved pharmacy engagement is the answer to realizing true savings in the new healthcare ecosystem."
Today, Ateb is the leading provider of medication synchronization to independent and chain pharmacies with more than 500,000 pharmacy patients enrolled nationwide. Pharmacies using Ateb's medication synchronization solution, Time My Meds®, consistently achieve increased Proportion of Days (PDC) scores, incremental fills, streamlined workflow, better inventory control, improved efficiency, and more opportunities to offer additional services to patients. Patients enrolled in Ateb's Time My Meds® program reach above Medicare 5-star PDC score thresholds for diabetes, hypertension, and cholesterol.
Recently, Ateb announced the formation of its inaugural Community Pharmacy Advisory Board (CPAB) and held its first meeting in May at Ateb's headquarters in Raleigh. This esteemed group consists of pharmacy leaders who will address industry issues and position community pharmacy partners as industry leaders in delivering coordinated, quality patient care to drive healthy outcomes.
About Ateb, Inc.
Ateb is the trusted source for independent and chain pharmacies seeking measurable pharmacy-based patient care solutions that improve pharmacy performance and patient outcomes. Ateb's patented technologies and robust analytics provide pharmacies with real proof of performance regarding patient care outcomes that generate new revenue streams.
Ateb's Patient Management Access Portal is the nexus of Ateb's entire portfolio of patient care solutions and the leading driver of pharmacy's appointment-based model in the market today. By combining Ateb's proprietary blend of pharmacy operational expertise, technology, analytics, and data integration, Ateb is driving healthy outcomes for patients, pharmacies, and payers. For more information, please visit; http://www.ateb.com.
Time My Meds is a registered trademark of Ateb, Inc.